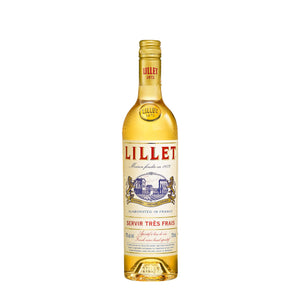 Tasting Notes for Lillet Blanc
Aroma: Honeyed and floral with honeysuckle and jasmine, candied orange peel, lemon and lime zest, passion fruit and fresh apricot.
Taste: Slightly sweet with a soft mouthfeel. Flavours of honey, candied orange peel, dandelions, mango and passion fruit, with light acidity, faint pine and crushed mint leaves.
Finish:  Floral, zesty lime, honey and balancing acidity. While the palate is slightly sweet, the finish is refreshingly dry.
Perfect Serve: Fever-Tree Premium Indian Tonic and a slice of cucumber.
A blend of 85% Semillion and Sauvignon Blanc wine with 15% fruit liqueurs, made by macerating sweet oranges from Spain, bitter oranges from Haiti, green oranges from Morocco ,and quinine from Peru, in brandy for several months. The blend is then aged in Yugoslav oak casks for a year prior to bottling.

In 1872, the brothers Paul and Raymond Lillet, distillers and merchants of wines and spirits, founded their company La Maison Lillet in Podensac, south of Bordeaux, France. The idea of making aperitifs in Bordeaux came from Father Kermann, a doctor who left Brazil at the beginning of Louis XVI's reign. Back in France, he settled in Bordeaux, where he produced liqueurs and fortifiers from plants such as quinine. During that time, Bordeaux became one of the most important places for the European wine business and was also France's main harbour for products imported from the Caribbean islands.

At the end of the 19th century, people developed a great fear of illness as a consequence of the discoveries made by Louis Pasteur (1822–1895). Nevertheless, "Wine", Pasteur said, "can be considered with good reason as the most healthful and the most hygienic of all beverages". As a result, tonic wines (with quinine) became very popular as quinine was used to fight fevers and ease malaria symptoms.

In 1887, Pierre and Raymond Lillet created Kina Lillet. Originally blanc, when all other aperitifs were red, Lillet was the only aperitif from a specific geographic location, one of the most famous, the Bordeaux region, or more precisely Great Sauternes region (at that time Sauternes was covering appellations that are now considered as Bordeaux or Graves appellation).

During the 1920s, Lillet exports greatly increased in Europe and Africa. The brand also became famous in France, thanks to advertising campaigns. At the same time, Lillet was served on transatlantic liners, part of the reason for its success with high society in New York as American bartenders used it for making fashionable cocktails.

In the early part of the 1970s, Maison Lillet removed "Kina" from the brand name calling it simply Lillet. "Kina" had become a generic term used by many aperitifs to emphasise their quinine content, and was no longer relevant for the times. Lillet is the name of the family, and became the only name of the brand.

To improve the quality and sustainability of the Lillet recipe, in 1985, Lillet was reformulated, after close work with the Bordeaux University's Institute of Oenology, applying modern oenology. To improve the balance between acidity and sweetness, the sugar content was slightly reduced, giving priority to the fruitiness while maintaining the same quinine bitterness concentration.


| | |
| --- | --- |
| Producer | Maison Lillet (Pernod-Ricard) |
| Style | Wine based aperitif |
| Volume | 75cl |
| ABV | 17% |