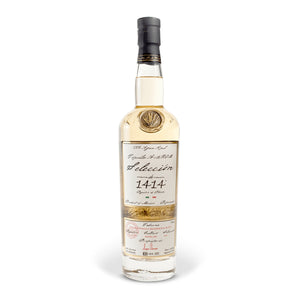 Tasting Notes for ArteNOM Seleccion de 1414 Reposado Tequila
Aroma: Wood notes from the cask with roasted agave mixing with strong cinnamon, light oak, and an undercurrent of vanilla. Some nice agave related spice, white pepper, dill, and touch of habanero.
Taste: Slightly spicy, with cinnamon and white pepper leading the charge with the spice balancing out the lightly sweet notes of roasted agave and vanilla. A nice citrus with lime added to the mix midpalate. 
Finish: The finish is long and spicy with white pepper, cinnamon, hot pepper, and clove lingering on the palate.
ArteNOM's 1414 reposado is a tequila that's all about balance, with a presentation of barrel impact that serves to support and enhance the base tequila, not to cover it up. There's some nice restraint at work here – it would have been easy to ramp the spice to make this a bolder tequila, but the commitment to balance really pays off with a reposado tequila that is excellent.

NOM 1414 is the Feliciano Vivanco y Asociados Distillery located in Arandas, Jalisco. The Vivanco family began cultivating highland agave during Mexico's tumultuous post-revolutionary period of 1919-1929. In Don Feliciano Vivanco's hometown of Arandas, Jalisco, subsequent generations of Vivancos have remained devoted to expanding the family's agave plantations, and with approximately 2,000 acres of estate-grown agave at their disposal, Sergio & José Manuél Vivanco have become renowned for producing rich, well-balanced tequilas. ArteNom 1414 Reposado Tequila is made from agave grown at 5,400 feet, so is considered to be a high elevation tequila, and for this expression the family also bring back their unique and extraordinary tradition of fermenting the agave mash with field-extracted wild yeast for an unparalled display of agave terroir. Finally, the tequila is aged for four months in third-fill ex-bourbon American White Oak casks to give ArteNom 1414 Reposado a very light gold tinge, almost clear in the glass. No colouring agents are used, so what you see if the all-natural colour of true reposado tequila.

Tequila is one of the most highly regulated spirits with a list of requirements, such as using only Blue Webber Agave and only producing in certain parts of Mexico, mostly in and around Jalisco. One of the requirements is for each and every bottle of tequila to have a unique number on it called "NOM" which corresponds to the distillery which made it. Most brands will work with only one distillery and the NOM on their bottles will always be the same. Tequila ArteNOM, from Las Joyas del Agave, is unique in that it draws tequila from several different distilleries, and the number in the title of each release corresponds to the NOM for the distillery which produced it. In this sense, ArteNOM is acting more like a curator than a distiller, showing off the "house style" of different distilleries, as well as showcasing the different characteristics that agave has when grown at different altitudes, which is often referred to as tequila's highlands and valley (or lowlands).

| | |
| --- | --- |
| Producer | Feliciano Vivanco y Asociados, S.A. de C.V. Distillery for Las Joyas del Agave |
| Style | Reposado Tequila |
| Volume | 75cl |
| ABV | 40% |