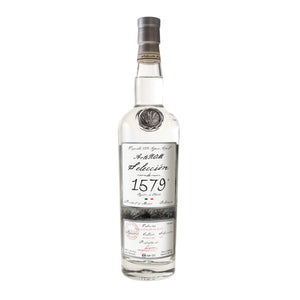 Tasting Notes for ArteNOM Seleccion de 1579 Blanco Tequila
Aroma: Hints of lime, fresh pineapple, black pepper, mint and bold roasted agave.
Taste: Velvety, wine-like texture with a huge savory herbaceous punch right up front that rounds into sweet vanilla cream and a fresh chile tingle.
Finish: Minerality defines the finish with a nice wet stone pull that finishes clean and crisp.
NOM 1579 is the El Pandillo Distillery, located in the tiny town of Jesus Maria, Jalisco, Mexico, and widely hailed as one of the best Tequila distilleries in Mexico. Its owner and master distiller Felipe Camarena has an attention to detail that is unique in the world of tequila and has personally hand made several pieces of equipment to modernize the distillery, while keeping as much as possible to tradition.

At an elevation of 6,079 feet the El Pandillo Distillery is the highest in Mexico. They use only agave grown on a rocky hillside, which reduces water content, resulting in a higher sugar content and a sweeter taste. The agaves are cooked in traditional brick ovens, then crushed using a custom hand-made mechanical tahona, and later distilled in copper pot stills. The tequila is made with a combination of rain water (50%) and mineral-rich deep well water (50%) and the blanco that comes out of the stills then goes through a 24-hour oxygenation process before it is bottled. The result is a tequila loaded with cooked agave from front to back, as well as earth, pepper, and minty aromas and flavors. Only good things come from this distillery and ArteNOM Selección de 1579 Blanco is no exception.

Tequila is one of the most highly regulated spirits with a list of requirements, such as using only Blue Webber Agave and only producing in certain parts of Mexico, mostly in and around Jalisco. One of the requirements is for each and every bottle of tequila to have a unique number on it called "NOM" which corresponds to the distillery which made it. Most brands will work with only one distillery and the NOM on their bottles will always be the same. Tequila ArteNOM, from Las Joyas del Agave, is unique in that it draws tequila from several different distilleries, and the number in the title of each release corresponds to the NOM for the distillery which produced it. In this sense, ArteNOM is acting more like a curator than a distiller, showing off the "house style" of different distilleries, as well as showcasing the different characteristics that agave has when grown at different altitudes, which is often referred to as tequila's highlands and valley (or lowlands).

| | |
| --- | --- |
| Producer | El Pandillo Distillery for Las Joyas del Agave |
| Style | Blanco Tequila |
| Volume | 75cl |
| ABV | 40.7% |