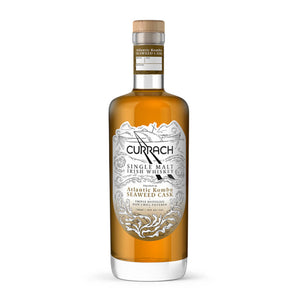 Tasting Notes for Currach Single Malt Irish Whisky - Atlantic Kombu Seaweed Cask
Aroma: Toffee and raisins with hints of almond, backed by a roasted kombu aroma.
Taste: Arabic roast coffee fused with salted caramel and dark chocolate notes complemented by earthy and lightly smoked seaside and umami undertones.
Finish: The dark and rich flavours of the palate fade to leave a persistent and delicately sweet maritime finish.
Using the finest of Irish malted barley, this contemporary single malt whiskey is triple distilled before being aged in 1st fill American oak ex-bourbon barrels, and is then finished in unique Atlantic Kombu seaweed charred virgin oak casks. It's this perfect union of the Irish land and sea that creates a rich multi-layered whiskey with a delicate umami character.

Kombu, a brown seaweed varietal, is located in the extreme lower part of the shore and is harvested during low spring tides throughout the year. Mildly salty and subtly sweet, it is rich in umami, the fifth human taste.


Origin Spirits Ireland Ltd, creators of Kalak Single Malt Vodka and Ornabrak Single Malt Gin, are pioneers in avant-garde single malt spirits. Each product celebrates the best of Ireland's terroir, tradition of distillation and spirit of creativity – This DNA transverses the portfolio. Each product is unique yet shares the same 'Single Malt' backbone. Each transports one on a sensory voyage to the heart of the Irish terroir.

Following the same ethos, Currach Single Malt Irish Whiskey is a true innovation in the whiskey world, and the first to be finished in seaweed charred casks – their first expression created using Irish Atlantic Kombu Kelp Seaweed and their second expression created using Atlantic Wakame Seaweed.

| | |
| --- | --- |
| Producer | An unnamed distillery for Origin Spirits Ireland Ltd |
| Style | Triple Distilled Single Malt Irish Whiskey |
| Age | No Age Statement |
| Volume | 70CL |
| ABV | 46% |