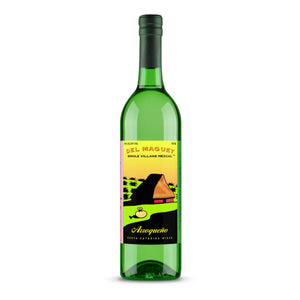 Tasting Notes for Del Maguey Santa Catatrina Minas Arroqueno Mezcal
Aroma: Full of citrus fruits, sweet agave, and an earthy smoke, all on a background of clay.
Taste: Smooth yet complex. Vegetal flavours, reminiscent of fresh green beans, combined with sweet honey, melon, over-ripe citrus, and a faint minerality.
Finish: Savory medium to long finish of light smoke.
Overall: An outstanding mezcal that manages to find harmony among the bold flavours. 
Del Maguey Arroqueno is a Special Edition of 360 bottles, made from giant semi-wild, maguey Arroqueno, and is dedicated to the famous biologist, explorer, and great human being, Thor Heyerdahl. He is most famous for his book Kon-Tiki, which chronicled his 1947 voyage across the Pacific Ocean on a wooden raft.

The magueys were roasted in a conical pit over hot rocks, buried with earth for three days, fermented with nothing but airborne microbes for thirty days, then twice -distilled very slowly in an ancient clay still with bamboo tubing. The original, centuries-old Oaxacan, hand-crafted way.

Hand-crafted in the village of Santa Catarina Minas, which identifies as the Cradle of Mezcal. It is a lofty title, but one fairly earned due to the extensive mezcal and maguey culture that can be traced back as far as the early Spanish occupation. Del Maguey Arroqueno is the creation of Minas village maestro, Luis Carlos Vasquez, who is truly a master of his craft. Someone that has toiled through the backbreaking work of cultivating and harvesting maguey, and then producing it through the rigorous ancestral production method.


Del Maguey (pronounced ma–gay), Single Village Mezcal was founded in 1995 by internationally renowned artist and Mezcal visionary, Ron Cooper. Ron introduced the world to previously unavailable 100% certified organic, artisanal Mezcal produced the original handcrafted way.

Through deep cultural relationships with Zapotec Mexican Indian producers in the remote villages of Oaxaca, Mexico, Del Maguey harnesses ancient, original organic processes. Combining these methods with varying micro-climates and terroir gives each creation its own unique, rich, sweet and smoky character.

Every product in their collection is made by individual family palenqueros (producers) in old-style villages. They are the first producer to credit each product after the village where the liquid is made. When you see their beautiful green bottles you know it's Del Maguey. Most of Del Maguey's mezcals are distilled to proof, so the ABV will vary slightly between batches.

In June of 2017, international spirits company, Pernod Ricard, purchased majority stake in the company. Del Maguey is now part of their portfolio that includes Jameson Whiskey, Absolute Vodka, and Havana Club Rum.

| | |
| --- | --- |
| Producer | Created by village maestro, Luis Carlos Vasquez of Santa Catarina Minas for Del Maguey. |
| Style | 100% Organic Arroqueño Agave |
| Volume | 70cl |
| ABV | 49% |