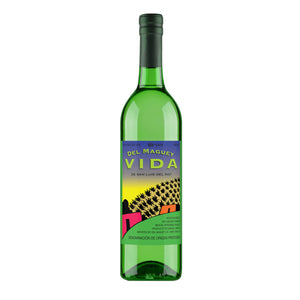 Tasting Notes for Del Maguey Vida Mezcal
Aroma: Earthy and flinty with restrained smokiness, burnt sandalwood and light citrus.
Taste: Earthy, meaty and high acidity with honeyed roast agave, pronounced black pepper, smoke, and burnt sandalwood. More subtle ginger, cinnamon, tobacco and nuts.
Finish: Long salty finish with elegant smoke.
A single village mezcal from the top producers and acknowledged specialists in Mexican mezcal, Del Maguey. Hand-crafted alongside the tropical riverbed in the village of San Luis Del Rio where the Red Ant River flows, Del Maguey Vida is made from 100% organic Agave Espadin, naturally fermented, twice distilled in wood-fired copper stills, and bottled unblended in a "time-honoured" 400 year old way.

This is the entry level mezcal from Del Maguey and a great introduction to mezcal overall. It is however, specifically designed to be used in cocktails such as smoky Negronis and smoky margaritas, so if you're looking for an affordable mezcal base for your home cocktail creations, look no further!

Del Maguey (pronounced ma–gay), Single Village Mezcal was founded in 1995 by internationally renowned artist and Mezcal visionary, Ron Cooper. Ron introduced the world to previously unavailable 100% certified organic, artisanal Mezcal produced the original handcrafted way.

Through deep cultural relationships with Zapotec Mexican Indian producers in the remote villages of Oaxaca, Mexico, Del Maguey harnesses ancient, original organic processes. Combining these methods with varying micro-climates and terroir gives each creation its own unique, rich, sweet and smoky character.

Every product in their collection is made by individual family palenqueros (producers) in old-style villages. They are the first producer to credit each product after the village where the liquid is made. When you see their beautiful green bottles you know it's Del Maguey. Most of Del Maguey's mezcals are distilled to proof, so the ABV will vary slightly between batches.

In June of 2017, international spirits company, Pernod Ricard, purchased majority stake in the company. Del Maguey is now part of their portfolio that includes Jameson Whiskey, Absolute Vodka, and Havana Club Rum.

| | |
| --- | --- |
| Producer | Village of San Luis Del Rio for Del Maguey |
| Style | 100% Organic Espadin Agave |
| Volume | 70cl |
| ABV | 42% |