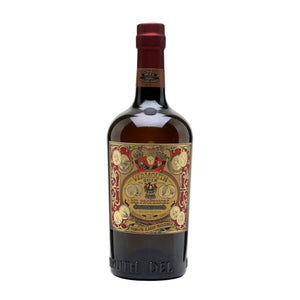 Tasting Notes for Del Professore Classico Bianco Vermouth
Nose:  A hint of something medicinal and liquorice-based, with syrupy fruits. Aromatic plants, herbs and candied citrus fruits rise to the surface. It gradually expands into a rich sense of exoticism.

Palate:  A balance between sweetness, saltiness, bitterness and acidity. Roasted fruits dominate.
Finish: Long, intense. The quality of its fruit continues to be exceptional. Boasting unprecedented depth, the last of its sugars are released in a manner not dissimilar to an ice wine. 
This fabulous collaboration between Antica Distilleria Quaglia, Chef Frederico Ricatto, and the Jerry Thomas Project in Rome is looking to reinvent the omnipresent vermouth. While it's not a sweet vermouth, it has some of the richness and complexity associated with Carpano's popular Antica Formula, but it's never cloying.

With a base of high-quality Moscato from the Langhe and inspired by historical celebrity bartender Jerry Thomas' own recipe, the Del Professore has finally given us another option when it comes to high-quality vermouth. The ingredients, some perpared by the distillery itself from local sources and others sourced from high-quality artisan purveyors throughout the world, distinguish the Del Professore from all other Vermouths.

The main ingredients here are wormwood, mint, citrus, gentian, vanilla, cloves and mace. Designed as an aperitif, it performs well in many traditional cocktails calling for white (dry) vermouth as well.

The Jerry Thomas Project produce two types of Gin del Professore, the Monsieur, with a more classic gin profile of juniper and citrus, and the Madame, with an extra layer of sweeter spiced aromas of cinnamon, vanilla and wild rose. Both gins represent the rediscovery of a lost style of gin production: the making of the 'Bathtub Gin'. These were gins produced illegally during the American Prohibition, either at home, at Speakeasies or in distilleries. The gins were often fairly poor quality, so the Jerry Thomas producers wanted to bring the concept of the Bathtub Gin back into being, but to a very high quality, using artisanal methods and high quality ingredients. Retracing the same techniques they use for their vermouth, the creation of the gin starts with blending a juniper distillate into an infusion of herbs and spices with the aim of obtaining a deep complexity of aromas. Neither gins are industrially filtered and therefore they maintain their original amber colour gained from the spice infusion.

| | |
| --- | --- |
| Producer | Antica Distilleria Quaglia & The Jerry Thomas Speakeasy Bar. |
| Style | Classico Bianco Vermouth |
| Volume | 75cl |
| ABV | 18% |