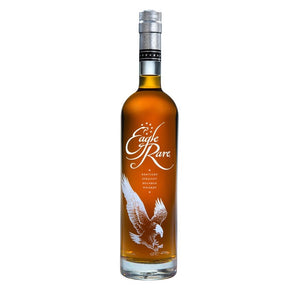 Tasting Notes for Eagle Rare 10 Year Old Bourbon
Nose: Complex, with aromas of toffee, hints of orange peel, herbs, honey, leather and oak.
Taste: Bold, dry and delicate with notes of candied almonds and very rich cocoa.
Finish: Dry and lingering with oak spice followed by caramel and a spicy herbaceous note.
They say the Internet is 99% porn. The other 1% is Eagle Rare reviews. This bourbon is granted a great deal of attention because, among reasonably priced bottles in stock at almost any U.S. liquor store (main bourbon market and source of aforementioned reviews), this one's as good as you'll find. Its list of awards is gaudy (and well deserved), but the bourbon really isn't. It's just damn good. It's not exotic or surprising—it's simply what you want from a fine Kentucky bourbon.

The main reasons for the huge fan-dom are that Eagle Rare is just so well-balanced, well-integrated, and perfectly engineered to be a go-to bourbon for every palate. Whether it's for sipping or cocktails, the quality just shines through. We'll stop now. If you haven't tried it, you really should.

Insane amount of awards, here's a sample:

San Francisco World Spirits Competition: Gold Medal - 2019, 2018, 2017....and so on

Whiskies of the World: Gold Outstanding - 2019

Los Angeles International Spirits Competition: Best of Category - 2019

American Whiskey Masters: Gold Medal - 2019

Ultimate Spirits Challenge: 93 Points - 2019


Eagle Rare 10 Year Old Bourbon is from the award winning Buffalo Trace Distillery in Frankfort, Kentucky. The distillery claims to be the oldest continuously operating distillery in the United States and the World's most awarded distillery. Records indicate that distilling started on the site that is now the Buffalo Trace Distillery in 1775 by Hancock Lee and his brother Willis Lee who died in 1776, with the first distillery being constructed in 1812 by Harrison Blanton.

In 1870 the distillery was purchased by Edmund H. Taylor and given its first name, the Old Fire Copper (O.F.C.) Distillery. Taylor sold the distillery eight years later to George T. Stagg and in 1886, Stagg installed steam heating in the storage warehouses, the first climate controlled warehouse for aging whiskey in the US. Albert B Blanton, who Blanton's whiskey is named after, joined the O.F.C distillery in 1897 as an office boy and would go on to devote more than 55 years to producing, protecting and promoting fine Kentucky straight bourbon whiskey, eventually becoming president of the distillery, now called the George T Stagg distillery, in 1921. Under Col. Blanton's direction, the Distillery survived and even thrived through Prohibition, the Great Depression, a devastating flood and numerous other challenges throughout the early 20th century.

The Distillery went through several changes of ownership and name before finally being bought by the Goldring family who renamed it the Buffalo Trace Distillery after an ancient buffalo crossing on the banks of the Kentucky River in Franklin County, Kentucky in 1992.

| | |
| --- | --- |
| Producer | Buffalo Trace Distillery |
| Style | Kentucky Straight Bourbon |
| Age | A minimum of 10 Years |
| Volume | 75CL |
| ABV | 45% |