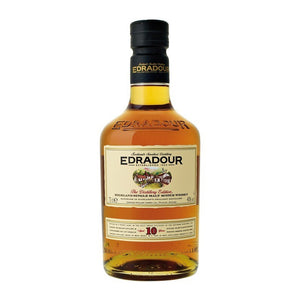 Tasting Notes for Edradour 10 Year Old Single Malt
Nose: Hints of dried fruits, Oloroso and almonds.
Taste: Spicy Christmas cake, sweet golden syrup with a touch of honeyed almonds. A distinctive, old fashioned, rich mouth feel coming from the small copper farm stills.
Finish: Oaky, soft spices, mellow and warming.
Edradour is produced in one of Scotland's smallest distilleries - and is hand made today as it was over 150 years ago by just three men who are devoted to the time-honoured methods of whisky making. Indeed, equipment used at the distillery has remained unchanged since the day the distillery opened and is only just capable of producing commercial quantities. Only 12 casks of whisky are produced a week, making Edradour single malt a rare pleasure for a fortunate few.

Edradour 10 Year Old Single Malt is a rather unique whisky, a decidedly rum-like dram with a thick mouthfeel. This single malt's decade of ageing was spent in a combination of Oloroso sherry and bourbon casks. This unique dram is one sherry monster, and all the better for it.


The earliest records of distilling at the Edradour distillery location date back to 1823, and in those days the distilling was illegal. The Excise Act of 1823 was carried out but the distillery didn't register until 1825 when they registered a distillery under the name of the Glenforres distillery, a small farming distillery.

The name was changed in 1837 when the distillery was taken over by James Scott and Duncan Stewart – who named it Edradour 'between two rivers'. In 1938 Irvin Haim, a New York mafia gangster, became the legal owner of the distillery, following which it was eventually taken over by Diageo.

During the early times the distillery mostly produced for the blend industry. The most famous brands were House of Lords and Kings Ransom. In 1986 the first 10-year-old Edradour was launched and the success story of the Edradour Single Malt Scotch Whisky began.

Current owner Andrew Symington, who is also the owner of the independent bottler Signatory Vintage, bought Edradour for 3.5 million pounds in 2002 and has put a lot of effort into the refurbishing and renewing of the distillery. New dunnages were built, the old malt barn was refurbished and a larger hall was built to hold events. Finally in 2012 Andrew Symington was honoured by becoming one of the Masters of the Quaich.


| | |
| --- | --- |
| Producer | Edradour Distillery |
| Style | Single Malt Scotch Whisky |
| Age | 10 Years |
| Volume | 70CL |
| ABV | 40% |