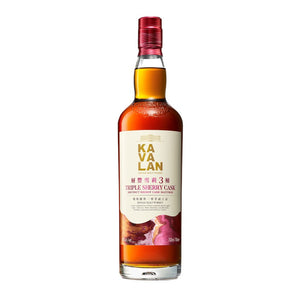 Tasting Notes For Kavalan Triple Sherry Cask Single Malt
Nose: Ripe, mature berries and dried fruits fill the nose, with fresh scents of grapes and citrus interlaced with chocolate brownie and toffee sweetness. Hints of cinnamon, clover and spiciness, blending into pleasant oakiness and fragrant rosemary.
Taste:  Lingering flavours of sherry dried fruits. Warm and smooth with a mellow texture. A lively flamenco dance of candied fruit, caramel, and honey sweetness on the taste buds. Multi-layered and perfectly balanced, it's an unforgettable feast for the palate.
Kavalan Triple Sherry Cask Single Malt Whisky is a rare combination of three exquisite sherry-aged casks — Oloroso, Pedro Ximénez, and Moscatel — with the dried fruits of Oloroso as its main character. Rich caramel and the sweetness of maltose are layered with the distillery's unique tropical fruits to create a delicate but distinct sherried whisky that can be enjoyed on easy-drinking occasions with friends.

Kavalan Distillery has been pioneering the art of single malt whisky in Yilan County, Taiwan since 2005. Kavalan sources the mineral-rich meltwaters of Snow Mountain and is aged in a unique combination of intense heat and humidity together with sea and mountain breezes. All this combines to create the quality, smoothness, and fruity character for which Kavalan is known.

Kavalan takes Yilan County's old name. A land of blessings, it was here that entrepreneur Mr. Tien-Tsai Lee dreamed of a new whisky homeland and a 'century-old' distillery to last generations.

Mr. T.T. Lee's ambition to create Taiwan's first whisky took him across the old world to the sacred distilleries of Scotland and Japan. He knew to compete, Taiwan must be world-class, and this tested every sinew of his resolve.

Kavalan brings together a highly skilled R&D team which takes on the legacy of renowned whisky specialist, the late Dr. Jim Swan. It is backed by King Car Group and its more than 40 years of beverage experience and knowledge.


| | |
| --- | --- |
| Producer | King Car Distillery |
| Style | Single Malt |
| Age | No Age Statement |
| Volume | 70CL |
| ABV | 40% |