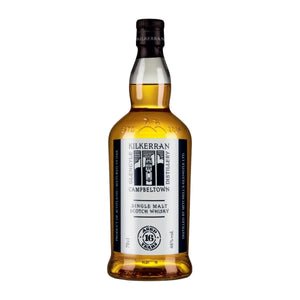 Tasting Notes for Kilkerran 16 Year Old Single Malt
Nose: Soft and delicate on the nose, an initial malty, cereal element opens up to sweet apricot notes. With hints of lemon meringue pie and orange peel, a soft citrus characteristic develops over time.
Palate: Following the delicate nose, this malt is clearly more powerful on the palate. Sweet and sticky with a waxy mouthfeel and a hint of aniseed. Lemon, pear drops and honey notes are present alongside rich milk chocolate and liquorice.
Finish: Rounded off with a gentle peat smoke influence, and the endurance of the malty, cereal notes.
Kilkerran 16 year old is a seasonal limited release and is the oldest Kilkerran whisky released to date. Each year has a slightly different composition, and this one was created from a combination of 75% ex-bourbon and 25% ex-sherry casks, then bottled at 46% ABV, without chill filtration or colouring. Lots of bright, zesty and tropical influence among the touches of gentle smoke and savoury coastal touches in this well-balanced dram.

The name Kilkerran was chosen for the single malt produced at Mitchell's Glengyle Distillery because the name Glengyle is already used for a blended Highland malt and they also wished to avoid any possible confusion between the newest single malt to come from the Campbeltown region and a pre-existing blended Highland malt. Kilkerran is derived from the Gaelic 'Ceann Loch Cille Chiarain' which is the name of the original settlement where Saint Kerran had his religious cell and where Campbeltown now stands.

The flavour of the Kilkerran is a little bit of everything, offering something of a renaissance style which can be described as classically Highland. Very few malts offer so much complexity, while remaining absolutely approachable. The quality of this malt is not to be undersold. It truly represents an authentic expression of the old way to make Scotch and delivers more enjoyment than just about any other whisky for your dollar.


The history of Mitchell's Glengyle distillery is a long and colourful one, but one which begins with a man named William Mitchell. William was the son of Archibald Mitchell, the founder of nearby Springbank Distillery. In the second half of the 1800s William ran Springbank Distillery in a partnership with his brother John, while the other brothers and sister were active running the old Rieclachan Distillery across the town. The family were not just distillers but also farmers, which was quite a common thing in those days. The growing of barley and production of farmers' feed (a bi-product from mashing) meant that it made sense to run a distillery as well as being a farmer to keep the cost down.

The farming element in the partnership with John didn't run very smoothly – allegedly the two brothers had a quarrel about sheep – and this saw William leave the family business to start up his own venture, Glengyle Distillery on the corner of Glebe Street and Glengyle Road, just down the road from Springbank. Mitchell's Glengyle Distillery was founded by William Mitchell in 1872 and he ran the distillery as a sole proprietor.Like the majority of Campbeltown distilleries, Glengyle suffered greatly during the economic downturn at the beginning of the 20th century. It was bought by West Highland Malt Distilleries Ltd in 1919 then sold again in 1924 for the princely sum of £300, before production finally ceased altogether in 1925. The entire spirit stock from the Glengyle Distillery was auctioned off on the 8th of April that same year.

Despite not producing any more spirit, the Mitchell's Glengyle Distillery buildings remained in relatively constant use right up to modern days. In the 1920s the building was rented out to Campbeltown Miniature Rifle Club for a number of years and the buildings were later used a depot and sales office for an agricultural company and so it remained the best preserved of all the former Campbeltown distilleries.

Possibly because the buildings were so well preserved, a number of attempts have been made to re-open Glengyle Distillery in the past. The first was a mere 16 years after it had closed down when it was bought by the Bloch Brothers, then owners of Glen Scotia Distillery, who planned to rebuild and extend Glengyle. The war intervened however and nothing came of it. A further attempt was made in 1957 when Campbell Henderson applied for outline planning permission to undertake a £250,000 modernisation of Glengyle and re-open it but again nothing came of it.

When the SWA threatened to take away the Campbeltown appellation, the Mitchells of Springbank Distillery were told that a region needed at least three distilleries to consider itself a specific locale. The decision was then made to reopen the long-dormant Glengyle distillery located immediately next door to Springbank, so in the end, it was third time lucky for the dormant Glengyle Distillery, as in November 2000, 75 years after Glengyle had last produced spirit, it was announced that the buildings had been bought by a new company, Mitchell's Glengyle Limited, headed by Mr Hedley Wright, chairman of J&A Mitchell and Co Ltd, and great-great nephew of William Mitchell, original founder of Glengyle.


| | |
| --- | --- |
| Producer | Glengyle Distillery |
| Style | Campbeltown Single Malt Scotch Whisky |
| Age | A minimum of 16 years |
| Volume | 70CL |
| ABV | 46% |