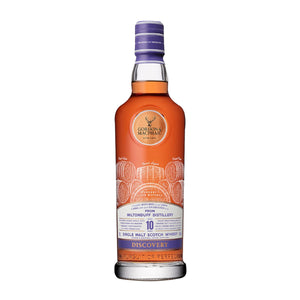 Tasting Notes for Miltonduff 10 Years Old - Gordon & MacPhail
Nose: Chocolate and sticky orange marmalade transforms into juicy plump stewed raisins and sweet baked apple, freshly cut grass notes delicately balance the rich sherry influences.
Palate: Sweet and spicy: comforting butter candies weave with roasted hazelnut followed closely by orange zest, cinnamon, and mouth-warming pepper maturing into plum and fig jam.
Finish: Long with highlights of chocolate and stewed fruit finishing with lingering winter spices.
This Miltonduff 10 year old was slowly aged in sherry casks which brings notes of candied fruits, rancio and spices. This rich and fruity single malt was bottled at 43% ABV and is a beautiful embodiment of the influence of great Xeres wines. Discovery is a perfect introduction to independent bottler Gordon & MacPhail's impressive colletion. Each edition has a flavour profile that matches those of great Scottish Single Malts: Sherry, Bourbon and Peated. Something to please all kinds of connoisseurs.

Miltonduff was named for an illicit distillery known as Milton and the suffix was added for the Duff family, who owned the land. It was following Hiram Walker Gooderham and Worts' acquisition of George Ballantine and Son in 1935, that the need for a stable supply of Scotch malt whisky became evident. Accordingly, the Miltonduff distillery was acquired a year later and transferred subsequently to the supervision of George Ballantine. From then on, Miltonduff whisky has been an important component of Ballantine's popular blended products.


Gordon & MacPhail are one of the oldest and most important bottlers of single malt whisky in Scotland - and indeed the world. They were founded in 1895 by James Gordon and John Alexander MacPhail and as did many whisky traders, Gordon and MacPhail sold other products in addition to whisky from their premises on South Street, Elgin; they were a grocers as well as a wine and spirits merchant. However, there was always an inclination toward dark spirits, and they decreed their product would be 'a superior article at a popular price'. They quickly began the pioneering practice of bottling various distillery's whiskies under license and selling them through their shop and wholesale.

They were the first to offer higher strength (100 proof) bottlings on a regular basis as far back as the 1950s and one of the first companies to set up a proper, independent bottling range in the form of the Connoisseur's Choice series which was launched in 1968.

Today, Gordon & MacPhail stands out, not for its age (though it is the oldest independent bottler in Scotland), but for its complete mastery of cask ageing. Gordon & MacPhail is the only bottler to have its own casks – carefully chosen for the purpose – filled by the distilleries themselves, instead of simply buying the ones suggested to them by the latter. This allows it to determine, in advance and with great precision, exactly how many years a whisky will need to reach ideal maturation.

They have bottled the four oldest whiskies ever released, including the 1939 75-year-old Mortlach as part of their ongoing 'Generations' series, and a 71-year-old Macallan under the Speymalt range. They have also recently announced an 80 year old Glenlivet, which will be a new record for the World's oldest released whisky.

Gordon & MacPhail have provided the stock for a number of importers and bottlers overseas over the past few decades and have probably been responsible for a higher proportion of what is now considered the great and legendary whiskies over the years than any other company. Today they still hold and release stock of unparalleled age and quality.


| | |
| --- | --- |
| Producer | Miltonduff Distillery for Gordon & MacPhail |
| Style | Single Malt Scotch Whisky |
| Age | 10 Years |
| Volume | 70CL |
| ABV | 43% |