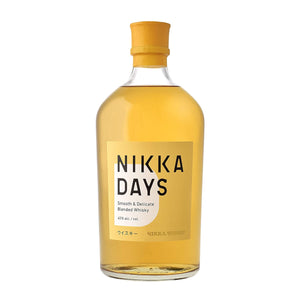 Tasting Notes For The Nikka Tailored
Nose: Apples, pears and strawberry liquorice. Perfumed notes of daiginjo sake and white melon. Grainy flavours develop, with freshly crushed barley and malting floor sweetness floating out of the glass. White chocolate and a sprinkling of lemon zest sit at the back.
Taste:  Creamy and soft, with grapes and apples on top of toffee and candied lemon. Delicate white chocolate notes are joined by darker liquorice hints and a tiny touch of barrel char smokiness. Right at the back is a bowl of apples, freshly peeled and sliced.
Finish: Lemon zest and buttery biscuits. Barley sugar sweetness to leave grain and spice.
Overall: Delicate and fragrant at first, with more weight hiding behind. A great all-rounder with enough complexity to sip and enough oomph to shine in a mixed drink.
Nikka Days has been developed for whisky lovers who appreciate fine drinks on any casual day, based on the concept "whisky for every day". Its round bottle and bright colored label visualize the taste profile of the whisky inside and enhance a vibrant mood. This whisky can be enjoyed neat, on the rocks, in a simple highball or refreshing cocktail. Nikka Days will complement and elevate your day.

A delicate balance is achieved by the skillful blending of mellow grain whiskies and slightly peated malts. With impressive floral aromas, this expression offers an extremely silky mouthfeel and fruity flavors that rise and expand, leaving behind a delightful aftertaste.


In 1918, a young Japanese man with an ambition to make genuine whisky went alone to Scotland to unveil the secret of whisky making. He is Masataka Taketsuru, the founder of Nikka Whisky.

Given the chance to go to Scotland, Masataka became the first Japanese ever to master how to make whisky. He enrolled at the University of Glasgow, took chemistry courses and then apprenticed at three Scotch distilleries. The young and passionate man was fortunate to learn first-hand from craftsmen and have practical trainings to master blending. The two notebooks filled with every detail later became Japan's very first guide in whisky production.

In 1920 Masataka returned to Japan with his Scottish wife Jessie Roberta (Rita). The two had married earlier that year and Rita decided to immigrate to Japan to support her husband's dream. However after returning to Japan, Masataka and Rita were heartbroken to find out that Settsu Shuzo, the company which invested in Masataka to learn in Scotland, had to abandon its plan to produce genuine whisky in Japan due to recessions after World War I.

In the meantime another company, Kotobukiya Limited (Suntory), was in search for someone who could conduct whisky production. Being the only Japanese who knew how to produce whisky at that time, Masataka was hired by Kotobukiya in 1923 to direct building the Yamazaki Distillery. There he led the project and devoted himself to producing Japan's first genuine whisky.

After his ten year contract with Kotobukiya, Masataka decided to become independent to make his own ideal whisky. In 1934 he went north and built his first distillery in Yoichi, Hokkaido, a place - though inconveniently located - he had always considered to be the ideal site for him to make whisky. The environmental conditions of Yoichi were in many ways similar to those of Scotland with a cool climate, crisp air and appropriate humidity. The company first started producing apple products under the name of "Dai Nippon Kaju", meaning the "Great Japanese Juice Company" while he was preparing to produce whisky. In 1936 the first pot still designed by Masataka and made in Japan was installed and started distillation. Finally in 1940 the first whisky from Nikka was launched. The brand name of this whisky was "NIKKA WHISKY", short for "Nippon Kaju", which later became the name of the company itself.


| | |
| --- | --- |
| Producer | Whiskies from around the world selected by Nikka |
| Style | Blended Whisky |
| Age | No age statement |
| Volume | 70CL |
| ABV | 40% |