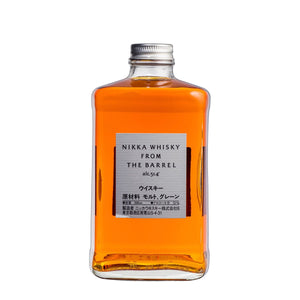 Tasting Notes For Nikka From The Barrel
Nose: Spicy and peppery, but there's a richness behind it, with spicy oak and soft orange fruitiness, and soft vanilla notes from the bourbon cask.
Taste:  Grainy sweetness and candied orange peel, quite rich, accompanied by rich cinnamon and clove.
Finish: Great balance, this really needs a little water to allow the flavours to unfurl.
Overall: Characterful stuff, this whisky has plenty of personality, and shows a delightful balance between the spicy pepperiness and rich citrus fruit.
Nikka From The Barrel is a blended whisky which was released in 1985. The development of this expression started with an aim to deliver full flavors and richness of whisky like "from the barrel", which only blenders can sniff and taste. The secret behind its gorgeous flavor is the unique combination of complex blending, higher ABV 51.4% and "marriage" process.

The complex formula is created by blending more than 100 different batches of malt and grain whiskies. After blending, the whisky is filled into used barrels and matured for another few months. This "marriage" process harmonizes all components in the formula, resulting in a mellow taste. Bottling is controlled at 51.4% ABV, almost equivalent to 90 British proof, that Nikka blenders determined through repeated experiments to achieve the ideal taste profile.

The iconic square bottle reflects its concept "a small block of whisky" and embodies the intense and rich flavors of the whisky inside. Long after its launch, this bottle is still timeless and recognized for its ultimate simplicity.


In 1918, a young Japanese man with an ambition to make genuine whisky went alone to Scotland to unveil the secret of whisky making. He is Masataka Taketsuru, the founder of Nikka Whisky.

Given the chance to go to Scotland, Masataka became the first Japanese ever to master how to make whisky. He enrolled at the University of Glasgow, took chemistry courses and then apprenticed at three Scotch distilleries. The young and passionate man was fortunate to learn first-hand from craftsmen and have practical trainings to master blending. The two notebooks filled with every detail later became Japan's very first guide in whisky production.

In 1920 Masataka returned to Japan with his Scottish wife Jessie Roberta (Rita). The two had married earlier that year and Rita decided to immigrate to Japan to support her husband's dream. However after returning to Japan, Masataka and Rita were heartbroken to find out that Settsu Shuzo, the company which invested in Masataka to learn in Scotland, had to abandon its plan to produce genuine whisky in Japan due to recessions after World War I.

In the meantime another company, Kotobukiya Limited (Suntory), was in search for someone who could conduct whisky production. Being the only Japanese who knew how to produce whisky at that time, Masataka was hired by Kotobukiya in 1923 to direct building the Yamazaki Distillery. There he led the project and devoted himself to producing Japan's first genuine whisky.

After his ten year contract with Kotobukiya, Masataka decided to become independent to make his own ideal whisky. In 1934 he went north and built his first distillery in Yoichi, Hokkaido, a place - though inconveniently located - he had always considered to be the ideal site for him to make whisky. The environmental conditions of Yoichi were in many ways similar to those of Scotland with a cool climate, crisp air and appropriate humidity. The company first started producing apple products under the name of "Dai Nippon Kaju", meaning the "Great Japanese Juice Company" while he was preparing to produce whisky. In 1936 the first pot still designed by Masataka and made in Japan was installed and started distillation. Finally in 1940 the first whisky from Nikka was launched. The brand name of this whisky was "NIKKA WHISKY", short for "Nippon Kaju", which later became the name of the company itself.


| | |
| --- | --- |
| Producer | Whiskies from around the world selected by Nikka |
| Style | Blended Whisky |
| Age | No age statement |
| Volume | 50CL |
| ABV | 51.4% |