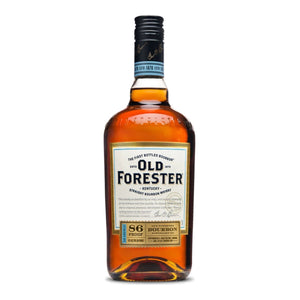 Old Forester Classic Kentucky Straight Bourbon
Nose: Sharp and sweet, with a strong floral character that swirls with hints of mint, rich tobacco leaf and vanilla.
Taste: A touch of oak and pine provides a strong underpinning. Sharp at first, but softens quickly, with hints of oak, sweet corn and rye grain character. Spicy, with soft vanilla and light orange notes.
Finish: Long, warm and slightly drying. Nice level of sweetness.
Created in 1870, Old Forester is the only bourbon continuously distilled and marketed by the founding family before, during and after Prohibition. At 86 proof (43% abv), Old Forester delivers a genuine bourbon experience, with rich, full flavor and a smooth character that is ideal for sipping neat, on the rocks, with a splash of water or in a classic cocktail.

Made from 72% corn, 18% rye, and 10% malted barley, this really does hit all the notes you expect to see in a good bourbon. If you've never tried bourbon before and are interested trying something of high quality that doesn't break the bank, you can't go wrong with this one.

This bourbon has been made the same way for over 140 years. As you can image, the list of awards is extensive. Here are some recent ones:

Jim Murray's Whisky Bible: Liquid Gold Award - 2019

The American Whisky Masters: Master - 2019

San Francisco World Spirits Competition: Gold Medal - 2019

International Spirits Challenge: Gold Medal - 2019

Old Forester was founded by George Garvin Brown in 1870 when he created the first bottled bourbon, Old Forester, in 1870. Old Forester is created by George Garvin Brown and named after Dr. William Forrester, who was a famour field doctor at the time. To guarantee consistency George batches bourbon from three nearby distilleries: Mattingly, Mellwood, and Atherton. He seals his whiskey exclusively in glass bottles and signs each bottle as his personal guarantee of its quality.

The U.S. Bottled in Bond Act of 1897 required that bourbon come from one distillery and one distilling season, George Garvin Brown purchases the Mattingly Distillery in 1901.

In 1910, a fire on the bottling line shut down production. Old Forester, which had been dumped and was ready to bottle instead went into a second barrel while the line was repaired. Leading Old Forester to create and sell "Very Old Fine Whisky" the first double-barreled bourbon. The distillery survived the prohibition years when it was granted one of only 10 licenses to produce medicinal whisky, and during the second world war, contributed to the war effort by converting 100% of it's production to industrial ethanol.

The distillery is still run by the Brown family to this day, and in Spring 2015, Campbell Brown, 5th generation Brown Family member, was named as the President and Managing Director of Old Forester following in the footsteps of his great-great-grandfather.

What sets Brown-Forman and their brands apart from other distilleries is not only the claim to having the longest running Bourbon on the market today, but also their ownership of their entire whisky production process from the cooperages making their barrels, to the equipment and structures involved in distillation, barrelling, ageing, and bottling their brands. When creating Old Forester consistency is key and achieving the required level depends on several key factors including barrels made to an exact level of toast and char, the use of a proprietary yeast strain, a signature high rye mashbill, heat cycled warehouses, and a large tasting panel that approve every batch after Master Blender Jacky Zykan has done her magic. Old Forester has only had 3 Master Distillers since 1963 which has helped to keep things consistent across the board.

| | |
| --- | --- |
| Producer | Brown-Forman |
| Style | Kentucky Straight Bourbon |
| Age | No age statement |
| Volume | 75CL |
| ABV | 43% |