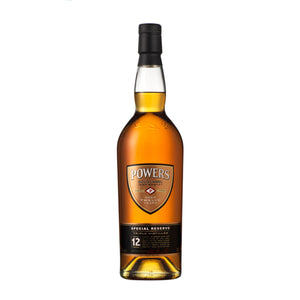 Tasting Notes For Powers 12 Year Old Special Reserve
Nose: Spice, manuka honey, cinnamon, bergamot, cedar wood, potpourri, orange zest and hints of soft, supple barley.
Taste: Creamy, smooth, spicy and sweet. A lot of vanilla, peaches in syrup, stewed apples, custard and pepper.
Finish: Dried apricots, honey and dessert wine.
Last time we tried to stock up on Powers whiskey, our supplier sent us this. Imagine our delight, when instead of getting a generally available whiskey currently in production, they sent us one of the most widely respected versions of Powers from the last decade, which was discontinued a few years back and can now only be found at auctions.

Powers 12 Year old, like the standard Powers, is a blend with a good dollop of pot still content (around 80%). Most ageing is done in ex-bourbon casks with a small amount also aged in sherry wood. Although it may say 12 years on the label, in practice there are actually some very old whiskeys in this blend, and the actual range is 12 to 21 years. Extra time in the cask means this expression has even more of what you drink Powers for, namely body and flavour. At the same time the wood has softened some of gold label's harder edges. Highly recommended, and once the current stock is sold, it will be gone for good.

James Power established the John's Lane Distillery in Dublin in 1791, with his son joining the business around 1800. In 1817 John Power took over the company and the whiskey has been known as John Power and Son ever since. In 1866 Powers became one of the first distillers in the world to start bottling their own whiskey, with each bottle adorned by a gold label of authenticity which is where the name comes from for the most popular variety.Originally a Single Pot Still whiskey (in common with most old Irish Whiskey brands), it was changed to a blend in the 1960's. In 1975 John Powers and Son whiskey became the last of the big Dublin distillers to move out of the city, to Midleton in Co Cork, where it continues to be made to this day. A whiskey with a great history, it was once the top selling whiskey in Ireland and in parts of the country it still outsells Jameson.

| | |
| --- | --- |
| Producer | Midleton Distillery |
| Style | Blended Irish Whiskey |
| Age | A minimum of 12 years |
| Volume | 70CL |
| ABV | 40% |