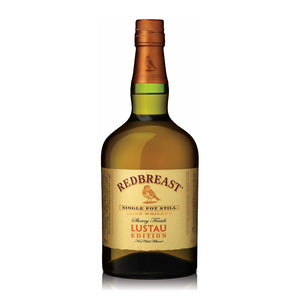 Tasting Notes
Nose:Rich infusion of dark fruits, prunes, dates and figs with liquorice, marzipan, toasted oak and aromatic spices.
Taste:Silky smooth Pot Still; assertive spices balanced with richness of the sherry finish and contribution of fresh Spanish Oak.
Finish:Endless. Sweetness and assorted spices endure while Oloroso Sherry and Spanish Oak have the last word.
A unique collaboration between the between the prestigious Bodegas Lustau in Jerez, Spain and the Midleton Distillery, Redbreast Lustau Edition is made from a mash of malted and unmalted barley and then triple distilled in copper pot stills. This single pot still Irish whiskey was initially matured in a combination of American and European oak casks for 9 to 12 years, before spending its final maturation journey in casks seasoned with the finest Oloroso Sherry in the Bodegas Lustau. The result is the ultimate sherried style of Redbreast.

Irish Whiskey Masters: Gold Medal 2019, 2017

World Whiskies Awards: Category Winner 2017

Irish Whiskey Awards: Gold Medal 2016

Redbreast whiskey harkens back to the days of the whiskey bonders, who used to buy whiskey by the cask and bottle it themselves. The particular whiskey bonder involved with Redbreast was W & A Gilby, started in 1857, and they bought whiskey from most Irish distillers, marketing it under their own brand of "Gilbey's Castle Whiskey". By 1887 they were marketing John Jameson pure and unblended Irish whiskey and by the turn of the century Gilbey's whiskey brands included Castle Grand JJ Six Years Old and Castle Liqueur JJ Ten Years Old (JJ standing for John Jameson). In 1904 John Jameson & Son's Castle "JJ Liqueur" Whiskey 12 Years Old was being sold  and was similar in shape, bearing the red and white label seen on Redbreast bottlings up until the 1960s.The first official reference to the brand name 'Redbreast' appears in August 1912, when Gilbeys were selling "Redbreast" J.J. Liqueur Whiskey 12 Years Old, described as one of their "famous" brands. 

The name 'Redbreast' itself refers to the bird, Robin Redbreast, and is attributed to the then Chairman of Gilbey's, who was an avid bird-fancier. Gilby's continued to sell Redbreast in this fashion until 1968 when the bonder trade was phased out but as Redbreast was so popular Gilby's made a special request to be allowed to sell Redbreast in small quantities in the 70's and 80's, with the last bottling under Gilby's occurring in 1985 when the brand was bought by Irish distillers and was re-introduced as a 12 year old Single Pot Still whiskey. Redbreast Single Pot Still whiskey is produced at the Midleton distillery in Co. Cork.

| | |
| --- | --- |
| Producer | Irish Distillers |
| Style | Single Pot Still |
| Age | No age statement (typically a minimum of 10 years) |
| Volume | 70CL |
| ABV | 46% |