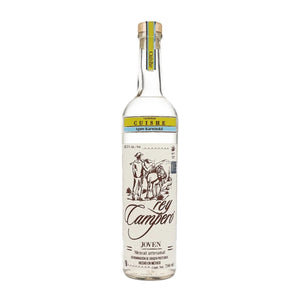 Tasting Notes for Rey Campero Cuishe Mezcal
Aroma: Bright minerals jump from the glass, revealing floral undertones whose heady perfume is strong and enchanting. 
Taste: Tomatillo, ginger, fresh hay and orange zest dance on the palate as they might in the summer sun, followed by a delicate note of honeydew. An bright and refreshing example from Rey Campero.
Finish: Flavors of fire roasted red chilies linger after each sip, begging to be paired thoughtfully with chocolate, cheese, and complex sauces like guacamole. 
Helmed by Romulo Sanchez Parada, this family collective in Candelaria Yegolé, Zoquitlán, chose the name Rey Campero, meaning "King of the Countryside", to reflect the relationship between the landscape and those who work so tirelessly to harvest the magueys from this challenging terrain.

Romulo and his family have some of the most diverse and productive agave nurseries in Oaxaca; Espadín and rare varieties of agave such as Tepextate and Jabalí are cultivated side by side. When they achieve maturity, some are allowed to flower and seed, while the rest are harvested and cooked a traditional oven underground, rested, then milled, fermented and distilled using one of three small copper pots, finally offering the delicious elixir which is Mezcal Rey Campero.

The maguey cuishe grows in the lower areas of the central valleys of Oaxaca, which have stony terrain, warmer temperatures, and generally dry conditions. Consequently, the flavors have a more flavorful minerality and with an earthy reference. The mezcal de cuishe is a mezcal made with totally wild maguey and which takes between 9 to 12 years to reach maturity.

With over 70 years of combined experience, Rey Campero represents the culture and tradition of Candelaria Yegolé, a small village in Zoquitlán, a municipality nestled within Oaxaca's southern mountain range, the Sierra Sur. The fertile soil along the Rio Quiechapa is abundant with a wide variety of agave that grow wild along the slopes and canyons, and some of Oaxaca's most famous maestro mezcaleros call this small district home.

Helmed by Romulo Sanchez Parada, this family collective chose the name Rey Campero, meaning "King of the Countryside", to reflect the relationship between the landscape and those who work so tirelessly to harvest the magueys from this challenging terrain. Romulo and his family have some of the most diverse and productive agave nurseries in Oaxaca; Espadín and rare varieties of agave such as Tepextate and Jabalí are cultivated side by side. When they achieve maturity, some are allowed to flower and seed, while the rest are harvested and cooked underground for 4–5 days, before being allowed to rest for up to a week. Then, after being crushed by a traditional stone mill (or "tahona"), the fiber is placed in wooden vats ("tinas") where it is naturally fermented in open air for up to 12 days, depending on the season. The fermented agave fibers and juice ("tepache") from the vats are distilled in one of three small copper pot stills, finally offering the delicious elixir which is Mezcal Rey Campero. These distillates express an unflinching translation of the terroir, the family, and the agave which comprise it.

| | |
| --- | --- |
| Producer | Sanchez family palenque in Candelaria Yegolé, Oaxaca, Mexico. |
| Style | Cuishe (Agave karwinskii) |
| Volume | 70cl |
| ABV | 48.8% (varies by batch) |