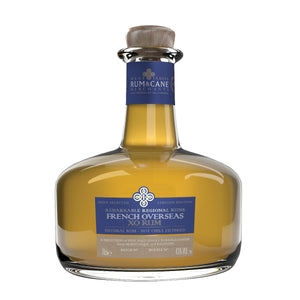 Tasting Notes for Rum & Cane French Overseas XO Rum
Nose: Floral lavender and violets. A vegetal note, some caramel and a light roast coffee bean.
Taste: Cane juice, green olives, a touch of raisin and liquorice followed by a burst of spicy oak.
Finish: Long with salted liquorice and some lingering cask spices with clove, ginger and white pepper.
As the name would suggest, Rum & Cane French Overseas XO is a blend of specialty premium rhums from the French Overseas regions. Specifically, this means Rivere du Mat in Reunion and Galion in Martinique. The Agricole rhums in this unique blend are crafted from cane sugar and distilled using column stills, then aged in American and French oak casks. It's labeled as "XO" — which has no legal definition in the world of rum — but we assume that these rums are at least 5 years old. Notably, this is a strictly limited release — there are only 2000 bottles to be had world-wide. All Rum & Cane Merchant Remarkable Region rums are naturally aged, have no additives, never chill-filtered and bottled at 43%. The bottle and display tin really is beautiful. It definitely won't look out of place on your shelf!

Rum & Cane Merchants say, "Take Reunion in the Pacific and Martinique in the Caribbean and blend them together. Same philosophy, many miles apart. We tried to develop a blended "Agricole rhum" that would challenge misconceptions of this style of rum. If you've tried these types of rums before and didn't like them, then it's time to try again. We think that the distance between the Islands has made the marriage much more successful!"

West Indies Rum & Cane Merchants is the new rum brand from Crucial drinks. Officially based in The City of London, they are blending great premium Rums that focus on regional flavours and styles, with each blend a marriages of rums from two different distilleries from one region. Importantly, it does seem like they are trying to do things the "right" way and all of their rums are naturally aged, have no additives, and are never chill-filtered. The rums are described as XO, or extra old, which is kind of a meaningless term that has no legal definition, but judging by the colour of the rum and the fact that they haven't added any caramel colouring, we assume that these rums are at least 5 years old.

Design-wise, Rum & Cane Merchants have come up with another winner. The bottle is designed to mimic the dutch rum "onion" bottle of yesteryear which was used by Dutch merchant ships in the 18th century. The wide body of the bottle gives it a low centre of gravity and minimises spillages when opened on choppy seas. Needless to say, it'll definitely be safe on your shelf and certainly won't look out of place. We're not sure why, but it really does seem that all the best bottles are saved for rum!

| | |
| --- | --- |
| Producer | Rivere du Mat in Reunion and Galion in Martinique |
| Style | Column distilled Agricole rhum |
| Age | No age statement |
| Volume | 70CL |
| ABV | 43% |