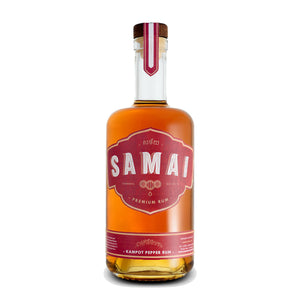 Tasting Notes for Samai Kampot Pepper Rum
Nose: : Sweet aroma with overtones of guava, eucalyptus and fennel.
Taste: The spice comes in on the first sip, punchy, but not overpowering. Flavours of tomato, coriander, chili pepper and burnt biscuit fight for attention. The tomato wins.
Finish: Another layer of spice which balances and enhances the unique Kampot pepper flavours.
The production of this rum is as unique as the brand itself. Kampot pepper is like the Champagne of peppers, in the sense that it's got a Protected Geographical Indication (PGI) status and can only be made in the Kampot region of Cambodia. But the pepper isn't the only intriguing thing about the drink. The production method is unusual as well.

The base of the Kampot Pepper rum is the Samai Gold rum, which is made from molasses produced from locally grown Koh Kong sugarcane. A three-month maceration process happens, with the pepper imparting a subtle red colour and unsubtle spiciness in the liquid.

Next comes a vapour infusion technique (sound familiar gin fans?), where Samai re-distil the rum in two 60L copper alembic pot stills and use a basket of Kampot peppers to let the alcohol vapours move through for more flavour absorption.

The final stage involves taking the best cuts from the maceration and the vapour infusion and blending them to get the bottled product.

International Rum Conference: Double Gold - 2017


Samai is the Khmer word for modern and represents a new generation of rum producers that are exploring new frontiers and flavours. The distillery is the brainchild of two Venezuelans Antonio Lopez and Daniel Pacheco, who went to high school together and reconnected years later in Cambodia.

Like the creation of any great concept, the idea for Samai started in a bar, while Lopez and Pacheco were throwing around ideas about what Cambodian rum could be like if it was made. That night of drunken genius became the catalyst for something special and in 2014, Samai opened its doors.

Using locally-grown sugar cane – nurtured by a warm Cambodian sun and fertile Cambodian soil to produce the rich, caramel molasses that defines the complex base of all Samai premium rums. The molasses is fermented, then distilled in handmade, 1800's-style copper alembic pots. A rectifying lentil enables a purer distillate at 75% to 90% alcohol/volume, while keeping the rich character of the raw ingredients intact. The distilled spirit is brought down to 65% alcohol/volume, aged in French & American Oak barrels and Sherry casks. These barrels impart delicate flavour characteristics into the rum and give Samai rum it's distinctive flavour.

| | |
| --- | --- |
| Producer | Samai Distillery |
| Style | Cambodian molasses rum infused with Kampot peppers. |
| Age | No Age Statement |
| Volume | 70CL |
| ABV | 38% |