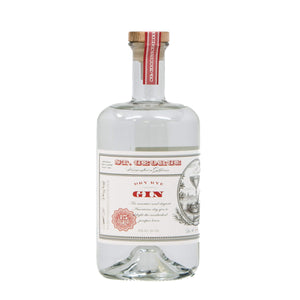 Tasting Notes for St. George Dry Rye Gin
Aroma: Spices leap out at you, warming pepper and juniper, a little rocket, malt too. Grapefruit and lime, coriander, caraway, Wine Gums and Smith Kendon travel sweets.
Taste: Malty, peppery juniper, Moroccan spices, rye and coriander.
Finish: Warming, flavoursome peppercorn, quite creamy.
A base of 100% pot-distilled rye makes this a gin for whiskey lovers—and for gin im-purists willing to take a walk on the rye side.

Think genever, then think again—and brace yourself for a gin with structure, spice, and an impossibly rich mouthfeel.

St. George Dry Rye Gin is made on the same 1,500-liter copper pot still they use to make their Terroir and Botanivore Gins — but starting with unaged rye as the base spirit gives this gin its warm, malty signature.

St. George Terroir and Botanivore Gin each have intricate botanicals bills designed to create a layered olfactory experience, but for Dry Rye Gin just six botanical ingredients were chosen: Juniper berries are the star here (50% more than in either of the other two gins), complemented by black peppercorn, caraway, coriander, grapefruit peel, lime peel—which were all selected to play up the peppery nature of juniper that we all love so much.

St. George Spirits was founded in 1982, and has grown from a dedicated eau de vie distillery into a diverse operation that makes a range of craft spirits. They have grown from a one man operation operating a bare-bones production facility with tasting tables jerry-rigged on sawhorses, to a diverse team of individuals passionate about artisan spirits operating a 65,000-square-foot hangar with a spectacular tasting room, laboratory, and a line-up of the most beautiful copper stills in the industry.

That's a lot to be proud of. But it didn't happen overnight. They've grown slowly over the last 39 years, hiring one person at a time, adding one copper still at a time. They don't have a marketing team or a big advertising budget. What they do have is passion, ideas, and access to superlative raw materials.

The craft distillation movement has grown with them over the years, and they've been joined by hundreds of new distilleries across the country. As the landscape has changed, there's been a lot of talk about established spirits brands vs. newcomers. Big brands vs. small brands. The way they see it, it's not that small or big is better. It's not that new or old is better. Better is better. We wholeheartedly agree.

And with that in mind, they have dedicated themselves to making the best spirits they can.They want to be able to pick their spirits out of a line-up on smell and taste alone because they're exceptional, and we feel they have succeeded in their goal and the St. George range of spirits are some of the best around. Highly recommended!

| | |
| --- | --- |
| Producer | St. George Spirits |
| Style | Dry Rye Gin |
| Volume | 75cl |
| ABV | 45% |