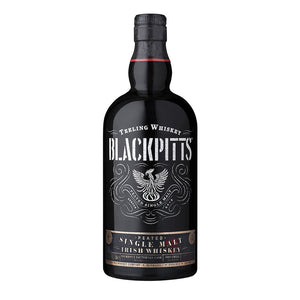 Tasting Notes For Teeling Blackpitts Peated Single Malt
Nose: Barbeque smoke and cloves are intermingled with fresh notes of butterscotch and orange peel.
Taste:  A fascinating blend of Applewood smoke, honey and all spice are married with stewed pears and fresh grilled pineapple.
Finish: Savoury smoke over a lingering wood undertone, which combines delightfully with notes of salted caramel.
Inspired by the old ancient Blackpitts area just behind the new Teeling Whiskey Distillery based in Newmarket in the old Liberties area of Dublin City, this area was synonymous with many industries and in particular malting houses. Blackpitts was traditionally home to some of the largest barley malting houses in Ireland. By using smoke from peat to dry the barley during the malting process, the resulting peated malt produces a distinctive smoky taste profile which is the signature of a Peated Single Malt.

However, what makes Teeling Blackpitts so unique is the triple distillation process, which reduces some of the medicinal character you would get from a traditional Scottish Peated Single Malt and allows the more barbeque smoke characteristic to shine. This is then combined with signature Teeling innovative cask maturation using both ex-bourbon and ex-Sauternes white wine casks, which is bottled at 46% with no chill filtration to produce a truly different and unique expression of Teeling and Irish Whiskey. The inspiration for the use of these casks came from a previous bottling of Teeling 24-Year-Old Single Malt which was honoured as the "World's Best Single Malt" in 2019 at the World Whiskies Awards.

This is a brand new edition so no awards yet. Stay tuned as we update throughout the year!

With the opening of the Teeling distillery in 2012, whiskey making has came back to the city that was once the epicentre of the world whiskey trade. Following the relocation of Powers to Midleton in Co.Cork in the 1970's, not one drop of whiskey had been distilled in the Irish capital for almost 40 years, and not one new distillery had opened in 125 years.

In a sense, this is also a homecoming for the Teeling family, as their love affair with Ireland's national drink also started in Dublin, when in 1782 Walter Teeling set up a craft distillery on Marrowbone Lane in the Liberties area of Dublin. The family have been involved in the whiskey industry since that day, with John Teeling being responsible for setting up the first new distillery in the whole of Ireland in over 100 years when he opened the Cooley distillery in 1987, with his sons Jack and Stephen following in his footsteps by opening the Teeling distillery. On the very forefront, and one could argue partly responsible for the revival of whiskey making in Ireland, big things are expected.

With that kind of pedigree behind the project, you could rightfully be very excited to see what Teeling come up with, and they certainly don't disappoint.  Marrying Irish whiskey making traditions, with modern innovations, every whiskey that has came out of this distillery has won multiple awards. It's still early days, but all indications are that this will be a most triumphant return of whiskey making to the world's original whiskey making capital.

| | |
| --- | --- |
| Producer | Teeling Distillery |
| Style | Peated Single Malt |
| Age | No Age Statement |
| Volume | 70CL |
| ABV | 46% |