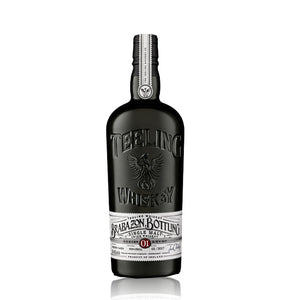 Tasting Notes
Nose: A nice touch of oloroso sherry combined with earthy dried fruit and roasted hazelnut, with marmalade, peach, plum and burnt toffee.
Taste:  Just the right amount of sherry sweetness, red berries, nuttiness and toffee, with a hint of liquorice and clove that really hides the 49.5%.
Finish: Lingering mixed spice, trail-mix, crisped marshmallow, dry tannins and spice with toasted wood.
The Brabazon Bottling Series is a limited edition collection of unique Irish Single Malts capturing the full impact and flavour crafted through fortified wine cask maturation. Series No. 1 focuses on sherry cask maturation and consists of a range of carefully selected sherry cask aged whiskeys producing a full flavoured sherry influenced Irish Single Malt. This bottling consists of a vatting of 6 different sherry casks, carefully chosen for their complementary character. The Brabazon Bottling Series 1 is bottled at 49.5% ABV with no chill filtration allowing for all the natural flavours of this whiskey to be retained. Limited to just 12,500 bottles, this is a whiskey to savour.

Irish Whiskey Masters: Master (Highest Award) Super Premium Irish Single Malt – 2018

Irish Whiskey Awards: Gold Medal 2017

International Spirits Competition: Silver Medal – 2017

With the opening of the Teeling distillery in 2012, whiskey making has came back to the city that was once the epicentre of the world whiskey trade. Following the relocation of Powers to Midleton in Co.Cork in the 1970's, not one drop of whiskey had been distilled in the Irish capital for almost 40 years, and not one new distillery had opened in 125 years.

In a sense, this is also a homecoming for the Teeling family, as their love affair with Ireland's national drink also started in Dublin, when in 1782 Walter Teeling set up a craft distillery on Marrowbone Lane in the Liberties area of Dublin. The family have been involved in the whiskey industry since that day, with John Teeling being responsible for setting up the first new distillery in the whole of Ireland in over 100 years when he opened the Cooley distillery in 1987, with his sons Jack and Stephen following in his footsteps by opening the Teeling distillery. On the very forefront, and one could argue partly responsible for the revival of whiskey making in Ireland, big things are expected.

With that kind of pedigree behind the project, you could rightfully be very excited to see what Teeling come up with, and they certainly don't disappoint.  Marrying Irish whiskey making traditions, with modern innovations, every whiskey that has came out of this distillery has won multiple awards. It's still early days, but all indications are that this will be a most triumphant return of whiskey making to the world's original whiskey making capital.

| | |
| --- | --- |
| Producer | Teeling Distillery |
| Style | Super Premium Single Malt |
| Age | No age statement |
| Volume | 70CL |
| ABV | 49.5% |