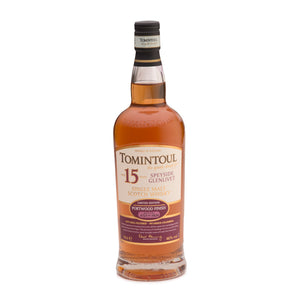 Tasting Notes for Tomintoul 15 Year Old Single Malt
Nose: Bramble and red cherry fruit notes mingled with toasted brioche and amoretti biscuit.
Palate: Layers of cherry Bakewell, dark fruits and marzipan followed by clove and pink peppercorn spices.
Finish: Warming and toasty with soft nougat and dried cranberry leading into peppery wood spices.
Tomintoul Distillery is located inside the picturesque Glenlivet estate, within the whisky producing region of Speyside. The distillery is named after the nearby village of Tomintoul, the highest village in the Highlands of Scotland.

The Tomintoul-Glenlivet Distillery produces whiskies which are famous for being gentle, with the ingredient selection and the natural environment adding to the smooth and mellow character of this award-winning whisky, also known as "the gentle dram".

Tomintoul Speyside Glenlivet 15 Years Old Portwood Finish has been created by the careful selection of mature whisky "finished" in Port wood. The malt whisky was transferred from Bourbon casks into the hand-picked Port pipes to "finish" its maturation for a generous period of time.

This process of "finishing" bestows on the whisky refined characteristics, most notably, tones of fruity Port sweetness. Tomintoul Master Distiller deemed that the time was right to bottle the whisky at 15 years of age when the malt whisky flavour notes had reached harmony with the sweet attributes of the Portwood.


International Spirits Challenege: Gold Medal - 2020

Meiningers International Spirit Awards: Gold Medal - 2019

Tomintoul Distillery was founded in 1964 by the Glasgow whisky traders Hey & Macleod and W. and S. Strong, who spent a year of searching for the purest source of spring water, until the Ballantruan spring was found. This determined the location of the distillery, tucked away in picturesque countryside.

At its founding the distillery had one wash still and one spirit still, but capacity was doubled when the distillery was bought by Scottish and Universal Investment Trust in 1973. That year, the distilleries 10 year anniversary, they also released the first bottling of their malt. Scottish and Universal was sold on to Whyte & Mackay (which was owned by Brent Walker) in 1989.

Whyte & Mackay itself was bought by American Brands in 1990, and in the same year, Tomintoul started selling a 12-year-old bottling of its malt for the first time. The distillery itself was then sold off to Angus Dundee in 2000, and under their management, the official range expanded to the wide variety of offerings we see today.


| | |
| --- | --- |
| Producer | Tomintoul Distillery |
| Style | Speyside Single Malt Scotch Whisky |
| Age | A minimum of 15 years |
| Volume | 70CL |
| ABV | 46% |