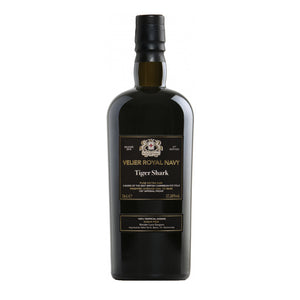 Tasting Notes For Velier Royal Navy Tiger Shark Rum
Nose: Intense ripe banana, raspberry and mango, fresh kitchen herbs, some coastal salinity.
Taste: Chocolate orange, cigar box, clove and cardamom spiciness with some old oak thrown in there for good measure.
Finish: Another helping of raspberry, now with raisin and sultana in support. Banana notes stick around too, with brown sugar and liquorice.
Another brilliant rum from Velier, this time titled Velier Royal Navy Tiger Shark. Made with a blend of Worthy Park and Demerara Distillers Limited Pot Still rums (from what we gather, nothing official has been released) and the rums in the blend have been tropically aged for an average of 14 years. Cask Strength. No sugar. No Colouring. Just great rum.

The Velier company was founded by the Chaix family in 1947. From 1953 to 1983, this small traditional company, located in the port of Gênes, specialised in the importation and distribution of wines, champagnes and spirits. In 1983, then aged 25, Luca Gargano acquired shares in Velier. Under his influence the company began specialising in the importation of exceptional spirits to be supplied to the most prestigious establishments in Italy. In the early 1990s, Luca Gargano heard rumours of a mythical, quasi-legendary stock of St James Rum that had supposedly been distilled at the end of the 19th century. Eventually he discovered proof that this stock, distilled in 1885 and bottled in 1952, did indeed exist. And in 1991, following lengthy discussions, Luca finally managed to acquire the entirety of this stock, which he then released on the Italian market. These selections of rums have since multiplied and led to the birth of exceptional ranges.

The latest range by Velier and Luca Gargano is Habitation Velier. The result of extensive research and education on rum over the past decades, combining Velier's experience with the know-how of the best rum producers. This range of rums takes up the codes dear to the brand, namely changing the perception of things, from the importance of aging to the importance of pot still distillation.

The idea behind the Habitation Velier project is to educate consumers and to promote artisanal distillation and the distiller's art and techniques. Each expression, with its unique features, embodies an original project, a "world premiere" for each distillery. The range includes white Pure Single Rums, which although still not widely known, are the quintessence of sugar cane and its by-product, molasses.

Today, these white rums provide great inspiration for new generation international mixology. The vintage Pure Single Rums are entirely aged in a tropical climate, which ensures natural, accelerated aging compared to European ageing, at the expense of the quantity produced. All Habitation Velier rums are barrel proof bottled, without cold filtering, and without the addition of caramel or any other element not from distillation.

| | |
| --- | --- |
| Producer | Velier |
| Style | Blended Caribbean Rum |
| Age | 14 years |
| Volume | 70CL |
| ABV | 57.18% |