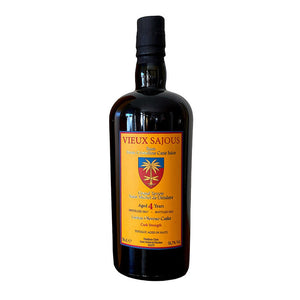 Tasting Notes For Vieux Sajous 4 years old Sherry Single Cask Rum
Nose: Rich and complex, notes of liquorice and chocolate followed by spicier aromas with a few floral touches.
Taste: Frank, floral, spicy and roasted notes, all carried by sugar cane.
Finish: Long and oily, the notes of roasting and flowers persist.
Vieux Sajous 4 ans Sherry is an aged clairin produced by the Haitian distillery Chelo, located in the commune of Saint Michel de l'Attalaye. It was distilled in 2017 from the pure juice of sugar cane, a variety that goes by the sweet name of "Cristalline". It is an endemic cane cultivated without chemicals or fertilizers. This clairin was aged on site for 4 years in oak barrels that had previously contained Oloroso Sherry from the house of Lustau.

Captivating, rich and deep, its aroma and taste is nourished by the Andalusian wine cask to better highlight the sublime notes of sugar cane, cane sugar and cane juice which orient the course of the tasting towards ever more class and complexity.

In 2021, it was bottled at its natural strength, without additives or cold filtration.


Clairin is considered the national spirit of Haiti, and is an eaux-de-vie produced similarly to agricole rum, generally by a single local distiller using sugarcane from their village's and adjoining fields. Largely secreted from the world for nearly 200 years, clairin was introduced to the world by Italian distributors, Velier, after Luca Gargano and Daniele Biondi discovered these distillers on at trip to Haiti in 2012.

Velier was founded by Casimir Chaix in Genoa in 1947 as a wine and spirits importer and distributor. By the 1980s they were still a small family-company with less than ten staff. This all changed in 1986 when it was purchased by Luca Gargano, a former brand ambassador for Saint James who was at the time still in his twenties. Under his direction, they selected their first single cask whiskies in 1992, and their first rum in 1996. In the decades that followed, Velier have gone on to become one of the most collectible brands in the industry, and Gargano has positioned them as the one of the foremost authorities and bottlers of rum anywhere in the world.

| | |
| --- | --- |
| Producer | Chelo Distillery, Haiti, bottled for Velier |
| Style | Aged Clairin |
| Age | 4 years |
| Volume | 70CL |
| ABV | 56.7% |