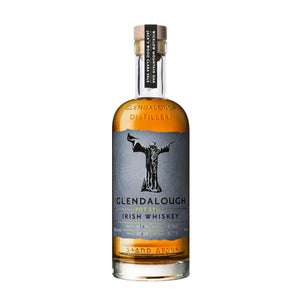 Tasting Notes For Glendalough Pot Still Irish Whiskey
Nose: Raw malt aromas, with tannic oak, creamy vanilla notes and some oak char, with a wave of cinnamon spice.
Taste: Crystallised ginger and candied citrus, banana custard and maple syrup, leading into green oak and dried herbs.
Finish: Aromatic clove and more creamy vanilla, alongside some red berries and toasted oak.
A wonderful pot still whiskey from Glendalough over in the Wicklow Mountains just outside of Dublin. It's made from a 1:2 mashbill of malted and unmalted Irish barley and was distilled to their specification by an unnamed distillery. This distillate was then matured in Alligator char ex-bourbon barrels for three years before a further maturation in Virgin Irish oak 250L hogsheads, specially commissioned by Glendalough. The Irish oak hogsheads were made from sustainably felled 140 year old trees from the forests surrounding the distillery. Glendalough are actually part of a sustainable forestry program and for every tree that is felled another 6 are planted. Bottled up at 43% ABV, the oak finish gives a lot of green notes to this otherwise rather creamy whiskey. Each bottle is then individually numbered with the tree, cask, batch and bottle number.

The Glendalough Distillery was among Ireland's first craft whiskey producers. It was founded by 5 friends with a mutual love of Irish whiskey and steeped in the lore and legend of Ireland. The distillery is located in a narrow glacial valley in the Wicklow mountains, about an hour or so south of Dublin. Glendalough, pronounced glen-de-lock, is Gaelic for the glen of two lakes. County Wicklow, in which the valley is situated, is known as the "Garden of Ireland" and is among the most visited scenic attractions in the country. The venture was able to draw on the expertise of its founders Barry Gallagher and Brian Fagan, drinks analysts working in finance, and Gary McLoughlin and Kevin Keenan, who had experience in drinks advertising.

While drawing their inspiration from heritage, they weren't shy about innovation. With the help of another craft distillery, they first released a poitín distilled from sugar beet and barley and matured in Irish oak casks in 2012. Poitín was the origin of the species, the original "water of life". It's Ireland's gift to the world, one of the first spirits ever to be distilled, but the people at Glendalough have added their own twist. They now even have a version matured in sherry casks.

In 2013 they set up a distillery in beautiful Wicklow for themselves after purchasing a Holstein still from Germany. While they wait for their own stocks to mature, they have sourced whiskey from the Cooley Distillery in Louth, but again they've managed to make it their own through the maturation and blending. Each bottle features the image of St Kevin, a sixth century hermit monk who founded a monastery in the valley of the two lakes.

| | |
| --- | --- |
| Producer | An unnamed distillery for Glendalough |
| Style | Pot Still |
| Age | No age statement |
| Volume | 70CL |
| ABV | 43% |