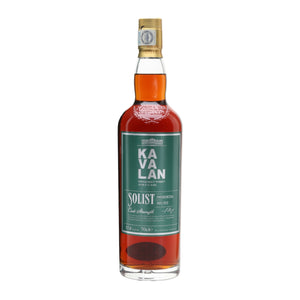 Tasting Notes For Kavalan Solist Port Cask
Nose: Light oak spice as it opens, before notes of refreshing tangerine and dried fruit develop.
Taste:  Chocolate éclairs, summer berries (think blackcurrant and strawberries atop a cheesecake) and vanilla-forward malt.
Finish: A zesty hint of passion fruit and lemon appears on the finish.
The Kavalan Solist range is the crème de la crème of the Kavalan stable. Only single barrels are included, and all are bottled at cask strength without chill filtration to retain flavour.

Kavalan Solist Port Cask is fully matured in Portuguese Port barriques in Taiwan's subtropical climate to create multiple fruity flavours such as plum, blueberry, blackberry and strawberry, with chocolate as the main background note.

Every bottle of Kavalan is double distilled and aged in one of Kavalan's two maturation warehouses, each 5 storeys high, where it is left to mature in the tropical heat of Taiwan's East Coast until the whiskies are judged by the master blender to be at their peak perfection.


Tokyo Whisky & Spirits Competition: Gold Medal - 2019

World Whiskies Awards: Category Winner - 2017

International Wine & Spirits Competition: Gold Outstanding - 2016

Kavalan Distillery has been pioneering the art of single malt whisky in Yilan County, Taiwan since 2005. Kavalan sources the mineral-rich meltwaters of Snow Mountain and is aged in a unique combination of intense heat and humidity together with sea and mountain breezes. All this combines to create the quality, smoothness, and fruity character for which Kavalan is known.

Kavalan takes Yilan County's old name. A land of blessings, it was here that entrepreneur Mr. Tien-Tsai Lee dreamed of a new whisky homeland and a 'century-old' distillery to last generations.

Mr. T.T. Lee's ambition to create Taiwan's first whisky took him across the old world to the sacred distilleries of Scotland and Japan. He knew to compete, Taiwan must be world-class, and this tested every sinew of his resolve.

Kavalan brings together a highly skilled R&D team which takes on the legacy of renowned whisky specialist, the late Dr. Jim Swan. It is backed by King Car Group and its more than 40 years of beverage experience and knowledge.


| | |
| --- | --- |
| Producer | King Car Distillery |
| Style | Single Malt |
| Age | A minimum of 7 years |
| Volume | 70CL |
| ABV | 57.1% |