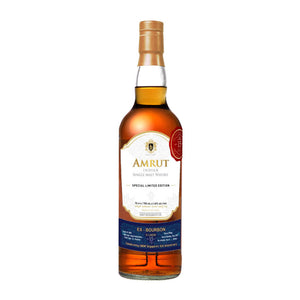 Tasting Notes for Amrut Ex-Bourbon Oak Single Cask Indian Single Malt
Nose: Elegant and complex. On the initial nose, a subtle hint of wood smoke accompanied by aromas of fresh fruit (passionfruit, apricot, mangos), honey and vanilla. When allowed to air, notes of leather, menthol and ashes emerge. Spectacular.
Taste: Robust and bold. On the palate, strong attacks of ripe stone fruits (mangos, peaches) with a balanced amount of oak. The faint smokiness enhances the overall complexity and depth, allowing creamy vanilla hints to linger on the palate. Fresh and fruity!
Finish: Long, extremely well balanced. Fruity, oaky (stave oak), musky, earthy, peaty yet clean. Floral (lavender, lilac), oily and definitely leaving an impression as huge as its flavors.
This intriguing Amrut was specially bottled for our good friends over at La Maison du Whisky Singapore for their 15th anniversary; hand selected by the LMDW SG Team, it was pitted against multiple marvelous cask samples at the LMDW storefront @ Robertson Quay. This Ex-Bourbon cask knocked it out of the park with its profound complexity and balance of fruitiness with a play of slight peat. Incredible on the nose, its palate was far more aromatic than anyone had a right to expect.

Amrut whisky started life in 1948, just as India became independent and people were looking for more home-grown Indian products. In the beginning, Amrut was manufacturing Indian Made Foreign Liquor, a catch-all term for all non-Indian alcoholic drinks at the time. In 1982, the company changed direction and started producing premium spirits, using barley gown in the Punjab region, and Prestige Blended Malt Whisky was released in 1986 with a Single Malt version following 18 months later. As Single Malt was virtually unknown in India at the time it seems Amrut didn't quite know what to do with it and it ended up blended sugar cane distillate to create MaQintosh Premium Whisky - the wild-west indeed!

One thing that Amrut discovered on their journey into making premium quality whisky was that the angel share in India was much higher, typically around 11-12% per year compared to 3% in Scotland or Ireland. The higher evaporation concentrates flavours and brings oak character into the maturation process faster (there is always a debate about temperature vs tropical aging, both are good!). The brains behind Amrut felt their whiskies were as good as 12 year old Scotch after aging for 3 years and so Amrut took a giant step forward towards international recognition and entered the European market in 2004. The quality of their whiskies has improved enormously since the days of MaQintosh Premium Whisky and this was recognized in Jim Murray's Whisky Bible, where Amrut Fusion was awarded the World's 3rd best whisky in 2010.

| | |
| --- | --- |
| Producer | Amrut Distillery |
| Style | Indian Single Malt Whisky |
| Age | No Age Statement |
| Volume | 70CL |
| ABV | 60% |