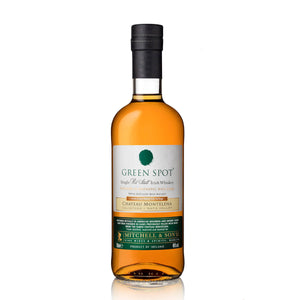 Tasting Notes For Green Spot Château Montelena Single Pot Still Irish Whiskey
Nose: Vibrant notes of fresh summer berries and pineapple, balanced by underlying heat of cedar.
Taste: Brown sugar and creamy vanilla, mixed with a few touches of fried dough. Cinnamon and white pepper in the background.
Finish: Continued festive spices. Slightly nutty.
The second release of the Wine Green Spot series, following on from the Green Spot Chateau Leoville Barton released in 2015. Initially matured in traditional Sherry and Bourbon casks, the Green Spot Chateau Montelena was then finished for an additional 12 months in French oak Zinfandel Wine casks, from the prestigious Chateau Montelena in Napa Valley. There is an abundance of marzipan and toasted oak which has undoubetly added to the complexity.

Celebrating an Irish heritage, the collaboration between Green Spot and Chateau Montelena is not just the coming together of two unique stories, it's also the fusion of two unique histories that as one deliver an exceptional whiskey - Green Spot Chateau Montelena Single Pot Still Irish Whiskey.

Irish Whiskey Masters: Gold Medal - 2019

Green Spot is a single pot still Irish whiskey, produced specifically for Mitchell & Son of Dublin, byIrish Distillersat the Middlteon distillery in Co. Cork. It is one of the few remaining bondedIrish whiskeys, and is currently the only brand specifically produced for and sold by an independent wine merchant in Ireland.Mitchell & Son wine merchants were established in 1805; however, it is uncertain exactly when Green Spot was first produced. It is known though, that by the 1920sMitchell& Son were sending their empty barrels to Jameson'sBow Street Distillery to be filled with whiskey, and Jameson in turn were supplying them with at least 200 Sherry barrellsof pot still distilled whiskey per annum.

The Mitchells sold a range of whiskeys under their 'Spot' brand name.This name originated from their practice of marking casks of different ages with a daub or spot of coloured paint. There was a Blue Spot, Green Spot, Yellow Spot, and Red Spot representing whiskey aged 7, 10, 12 and 15 years respectively.

| | |
| --- | --- |
| Producer | Produced exclusively for Mitchell & Sons by Irish Distillers for over 100 years. |
| Style | Single Pot Still Whiskey |
| Age | No age statement |
| Volume | 70CL |
| ABV | 46% |