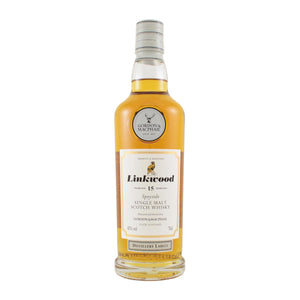 Tasting Notes for Linkwood 15 Years Old - Gordon & MacPhail
Nose: Green and grassy, nutty, gloopy almond butter and a touch of lemongrass.
Palate: Cloves and allspice, rich tea biscuits, dried red berries, wafts of vegetal grass, and pepper.
Finish: More spice, hints of anise, and rich tangy, almost nutty oak.
This Linkwood 15-year-old is another of G&M's specialties - a top class distillery that rarely gets officially bottled as the vast majority of its output goes into owner Diageo's blends. Thankfully Gordon & MacPhail's long-standing relationships with distilleries mean that they're able to get their hands on a supply of these casks - or even to send their own casks to be filled with new make from the distillery and mature them in their own warehouses. This Linkwood 15-year-old has seen a bit of sherry and is absolutely delicious.

Bottled at 46% ABV by the folks at Gordon & MacPhail, as part of their Distillery Labels series, an old school bottling range from G&M that showcases the very best spirit from certain distilleries in their extraordinary reserves. The label design is a throwback to Linkwood bottlings of times gone by.

Founded in 1821, Linkwood did not begin producing whisky until 1825. Located in Speyside, it remained in the hands of the Brown family until the end of the 1860s when it was destroyed, before being rebuilt in 1872. Following in the footsteps of many other distilleries, it fell into the hands of the Scottish Malt Distillers company in 1933 and played an active role in the development of numerous blends, including Johnnie Walker, White Horse, Haig and Bells. The majority of the existing single malt expressions from this distillery are produced by independent bottlers including Signatory Vintage and Gordon & MacPhail, who offer a variety of bottlings matured in sherry casks.


Gordon & MacPhail are one of the oldest and most important bottlers of single malt whisky in Scotland - and indeed the world. They were founded in 1895 by James Gordon and John Alexander MacPhail and as did many whisky traders, Gordon and MacPhail sold other products in addition to whisky from their premises on South Street, Elgin; they were a grocers as well as a wine and spirits merchant. However, there was always an inclination toward dark spirits, and they decreed their product would be 'a superior article at a popular price'. They quickly began the pioneering practice of bottling various distillery's whiskies under license and selling them through their shop and wholesale.

They were the first to offer higher strength (100 proof) bottlings on a regular basis as far back as the 1950s and one of the first companies to set up a proper, independent bottling range in the form of the Connoisseur's Choice series which was launched in 1968.

Today, Gordon & MacPhail stands out, not for its age (though it is the oldest independent bottler in Scotland), but for its complete mastery of cask ageing. Gordon & MacPhail is the only bottler to have its own casks – carefully chosen for the purpose – filled by the distilleries themselves, instead of simply buying the ones suggested to them by the latter. This allows it to determine, in advance and with great precision, exactly how many years a whisky will need to reach ideal maturation.

They have bottled the four oldest whiskies ever released, including the 1939 75-year-old Mortlach as part of their ongoing 'Generations' series, and a 71-year-old Macallan under the Speymalt range. They have also recently announced an 80 year old Glenlivet, which will be a new record for the World's oldest released whisky.

Gordon & MacPhail have provided the stock for a number of importers and bottlers overseas over the past few decades and have probably been responsible for a higher proportion of what is now considered the great and legendary whiskies over the years than any other company. Today they still hold and release stock of unparalleled age and quality.


| | |
| --- | --- |
| Producer | Linkwood Distillery for Gordon & MacPhail |
| Style | Single Malt Scotch Whisky |
| Age | 15 Years |
| Volume | 70CL |
| ABV | 46% |