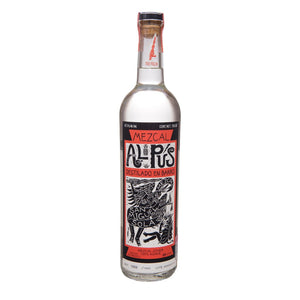 Tasting Notes for Alipús 

Destilado en Barro

 Mezcal
Aroma: Sweet and smokey with dried fruit, wood, herbs and a light clay funk.
Taste: Very smooth with bitter chocolate, herbs and a minerally wet earth element from the clay pots which works wonderfully well with the light smoke.
Finish: Long mineral finish, a classic example of Olla de Barro (clay pot) distillation.
The Alipus Destilado en Barro range is designed to showcase the tradition of using clay pots for distillation, rather than the usual copper. This method is typical of the region of Sola de Vega, Oaxaca and this particular mezcal is brought to us from Félix García's family distillery in El Potrero, San Miguel Sola de Vega, Oaxaca.

This mezcal really is special, almost something from a bygone era. The entire process is done by hand and starts with harvesting the agave by jimadores. 80% agave Espadín and 20% agave Arroqueño is used in Tío Felix's mezcal, and the agave is grown in thin, stony, red soil at an altitude of 900 to 1500 meters above sea level. The thin, stony soil gives the agave a higher concentration of sugars, giving it a sweeter taste than agave grown in fertile moist soils. Roasting is done in a traditional stone lined, wood fired pit and the roasted agave is milled by hand using mallets in a canoa (wooden trough carved from a single tree). Fermentation takes place in 800L pine and juniper vats using wild yeast, and the resulting liquid and solids are distilled in clay pots, bringing a mineral quality which is not present in mezcal distilled in copper pots. The clay pots are also the reason for the title of the range as Destilado en Barro roughly translates to distilled in clay. As usual, the bottling and labelling is done at the distillery.

Alipús Mezcal originated in 1999 as a social impact project by Distilería Los Danzantes, that sought to support traditional family producers. Each version of Alipus is a unique expression born from the soul of the land, connecting us to the families which have been keeping traditional recipes and production methods alive through the generations. Through the Alipus project, these family producers are now able to offer their particular elixir for the delightful enjoyment of the world.

There are hundreds of small palenques in Oaxaca reached only on dirt roads. Small artisanal distilleries preserve – uncorrupted – the traditional centuries-old ways of distilling mezcal. Often the makers of these fabulous Mezcals are unable to navigate the bureaucracy necessary to sell their spirits abroad. Master Distillers Hector Vasquez and later Karina Abad Rojas from Distilería Los Danzantes have worked closely with selected small producers, both to improve their distillation methods and to help them with the complex paperwork required to certify their Mezcals for export.

Today they work with nine mezcal producers in Oaxaca, all of which contribute to the development of rural economies. These family distilleries are very old-fashioned operations. Some still lack stone mills, and crush the roasted agaves by hand, using long-handled wooden mallets, in canoas, hollowed out logs; others distil in potstills made from clay. The process is slow and labour-intensive, tied into the agave itself, tied into the pueblo where the mezcal is distilled, tied into local and regional methods handed down for generations.

| | |
| --- | --- |
| Producer | Félix García's family distillery in El Potrero, San Miguel Sola de Vega, Oaxaca. |
| Style | 80% agave Espadín and 20% agave Arroqueño distilled in clay pots. |
| Volume | 75cl |
| ABV | 47.3% |