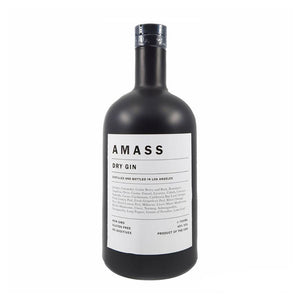 Tasting Notes for AMASS Los Angeles Dry Gin
Aroma: Vibrant and fresh, with a citrus-forward welcome.
Taste: Citrus to the fore, supported by spicy notes of cardamom. California Bay Leaf provides an herbaceous quality on the middle of the palate. Gin opens with less heat on the front palate, but warms up to provide the necessary heat on the mid- and rear palate.
Finish: Mushrooms and Long Pepper settle on the rear palate for a peppery finish with earthy undertones.
AMASS Dry Gin is a celebration of both the abundant natural terroir and diverse cultural landscape of contemporary Los Angeles. Indigenous botanicals like California Bay and Cascara Sagrada ground bright top notes of fresh citrus. Earthy umami notes from Reishi Mushroom and Lion's Mane Mushroom pair with Juniper to create a complex boreal profile. Vibrant flavors such as Hibiscus, Cardamom, Cacao, and Ginger paint a vivid palate of the rich multicultural fabric that is the spirit of the City of Angels.

A unique modern gin which can sometimes confuse with the mix of sweet and savory, but it's perfect for those looking for something a bit different.

AMASS was founded by Morgan McLachlan whose fascination with botany first began when she was a child growing up among the coastal forests of the Canadian Pacific Northwest. That passion for plants translated into a passion for distilling, and in 2012 she cofounded her own distillery. She quickly realized that the spirits industry's rigid categories and industrial practices did not align with the thing that drew her to distilling in the first place; transforming botanicals into a conduit for ritual and connection.

AMASS was born out of a desire for quotidian pleasures made better by plants. Their line of botanical beverages and personal care products are designed for moments of celebration and self-care. They're a way to connect, both with others and ourselves.

It's Morgan's hope that her products provide connection for all of your happy hours and evening rituals to come.

| | |
| --- | --- |
| Producer | The Spirit Guild Distillery for Amass. |
| Style | American Craft Gin |
| Volume | 70cl |
| ABV | 45% |