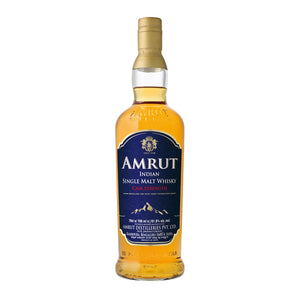 Tasting Notes for Amrut Cask Strength Indian Single Malt Whisky
Nose: Honey and malt extract leap out of the glass, rich and sweet. Behind that initial sweetness lies a core of Amrut character; brown-sugar-dusted porridge and soft spice leading to a fruity core of lime, unripe mango and green apple.
Taste: Softer than you might expect from the high strength, but still intensely flavoured. It starts with sweetness and spice, cinnamon toast, Dutch Speculaas biscuits, clove-studded oranges and a touch of bitter barrel char. As it develops in the glass, more tropical fruit notes develop; papaya, star fruit and the mango from the nose.
Finish: Prickly spice fades to fresh cherries, sultanas and spiced biscuits.
Overall: More approachable than you might think and packed with concentrated Amrut fruit and spice.
Produced almost exclusively from barley grown in the fertile plains at the foot of the Himalayas, in order to retain its natural characteristics at bottling Amrut is still not chill filtered. This whisky is similar to Speyside whiskies, fruity on the palate with hints of spice and chocolate which are typical to ageing in casks previously used for bourbon. Proud of its success, the distillery now offers small batches with a natural alcohol content of over 60% to focus greater attention on the finesse and unique character of this single malt.

Amrut whisky started life in 1948, just as India became independent and people were looking for more home-grown Indian products. In the beginning, Amrut was manufacturing Indian Made Foreign Liquor, a catch-all term for all non-Indian alcoholic drinks at the time. In 1982, the company changed direction and started producing premium spirits, using barley gown in the Punjab region, and Prestige Blended Malt Whisky was released in 1986 with a Single Malt version following 18 months later. As Single Malt was virtually unknown in India at the time it seems Amrut didn't quite know what to do with it and it ended up blended sugar cane distillate to create MaQintosh Premium Whisky - the wild-west indeed!

One thing that Amrut discovered on their journey into making premium quality whisky was that the angel share in India was much higher, typically around 11-12% per year compared to 3% in Scotland or Ireland. The higher evaporation concentrates flavours and brings oak character into the maturation process faster (there is always a debate about temperature vs tropical aging, both are good!). The brains behind Amrut felt their whiskies were as good as 12 year old Scotch after aging for 3 years and so Amrut took a giant step forward towards international recognition and entered the European market in 2004. The quality of their whiskies has improved enormously since the days of MaQintosh Premium Whisky and this was recognized in Jim Murray's Whisky Bible, where Amrut Fusion was awarded the World's 3rd best whisky in 2010.

| | |
| --- | --- |
| Producer | Amrut Distillery |
| Style | Indian Single Malt Whisky |
| Age | No Age Statement |
| Volume | 70CL |
| ABV | 61.8% |