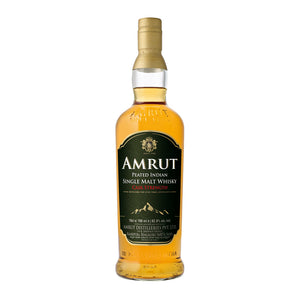 Tasting Notes for Amrut Peated Cask Strength Indian Single Malt Whisky
Nose: Spicy and smoky, with freshly milled grain and peat paired with black pepper and lime.
Taste: Fresh and zingy with sweet peat smoke balanced against raisins and gentle spice.
Finish: Long and complex, with sweetness becoming rich, dark and smoky.
Amrut Single Malt Whisky Peated is a product of many years of research and development with an aim to produce world class whiskies. This whisky is made from the finest imported Scottish barley that has been malted and dried in an intense peat kiln at Port Ellen.

It is carefully mashed and distilled in small batches to preserve the natural aromas and matured in oak barrels in unique tropical conditions at an altitude of 3,000 feet above sea level at Bangalore, the "garden city" of India. To retain the natural characteristics of this oak aged Indian Single Malt Whisky Amrut is no-chill filtered and it is bottled straight from the barrel in its natural colour and without dilution for this cask strength edition.


Amrut whisky started life in 1948, just as India became independent and people were looking for more home-grown Indian products. In the beginning, Amrut was manufacturing Indian Made Foreign Liquor, a catch-all term for all non-Indian alcoholic drinks at the time. In 1982, the company changed direction and started producing premium spirits, using barley gown in the Punjab region, and Prestige Blended Malt Whisky was released in 1986 with a Single Malt version following 18 months later. As Single Malt was virtually unknown in India at the time it seems Amrut didn't quite know what to do with it and it ended up blended sugar cane distillate to create MaQintosh Premium Whisky - the wild-west indeed!

One thing that Amrut discovered on their journey into making premium quality whisky was that the angel share in India was much higher, typically around 11-12% per year compared to 3% in Scotland or Ireland. The higher evaporation concentrates flavours and brings oak character into the maturation process faster (there is always a debate about temperature vs tropical aging, both are good!). The brains behind Amrut felt their whiskies were as good as 12 year old Scotch after aging for 3 years and so Amrut took a giant step forward towards international recognition and entered the European market in 2004. The quality of their whiskies has improved enormously since the days of MaQintosh Premium Whisky and this was recognized in Jim Murray's Whisky Bible, where Amrut Fusion was awarded the World's 3rd best whisky in 2010.

| | |
| --- | --- |
| Producer | Amrut Distillery |
| Style | Indian Single Malt Whisky |
| Age | No Age Statement |
| Volume | 70CL |
| ABV | 62.8% |