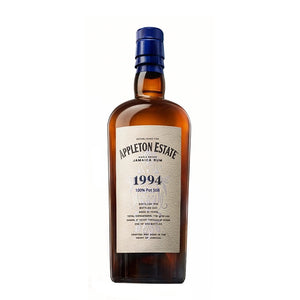 Tasting Notes for Appleton Estate 25 Year Old - Hearts Collection
Nose: Brown sugar, orange peel, oak and mint are present before the smell of a wooden cigar box then takes over. Rounding it off are candle wax, coffee, toffee and a little bit of grass.
Taste: The oak is strong but it doesn't result in massive bitterness. There is vanilla, orange peel, mint, tobacco and wood spice and a sweetness that's intertwined with black pepper and wood spice that is glorious. 
Finish: The finish is long, woody and spicy with a diesel oil note to it. It drinks well below its abv. What a rum. I'd like to take a bath in this.
Hearts Collection is comprised of three vintages that embody the excellence of Appleton Estate: 1994, 1995 and 1999, co-bottled by the world's leading rum expert, Luca Gargano.

Each vintage was distilled 26, 25 and 21 years ago, respectively.
The rums that make up the Hearts Collection are the first single marque rums and the first 100% pot-still rums that Appleton Estate has ever released.

The renowned Appleton Estate rums are meticulous blends of spirits made in a pot still, with column-still rums added as an equalizing agent. Pot-still spirits have a richer quality and more distinctive texture than column-still spirits, which are stripped of their character-driving congeners in their long pass through the column plates.

Established in 1655 as a sugar refinery, Appleton Estate started to produce rum in 1749. It is the oldest working rum distillery in Jamaica. Appleton Estate Special, the estate's flagship product, was created during the Second World War to compensate for the shortage of whisky on the island. Over the decades the distillery has survived various crises by using an independent sugar cane supplier. In 1997 Appleton Estate appointed Joy Spence as their Master Blender, the first woman to occupy such a position in the rum industry. Highly appreciated by experts, Appleton Estate is regularly awarded prizes for the consistent quality of its products.

| | |
| --- | --- |
| Producer | Appleton Estate Distillery |
| Style | 100% Pot Still Rum |
| Age | A minimum of 26 years |
| Volume | 70CL |
| ABV | 60% |