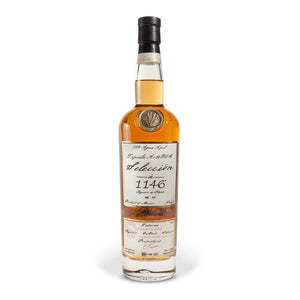 Tasting Notes for ArteNOM Seleccion de 1146 Anejo Tequila 
Aroma: Solid oak supporting a mix of aromas including roasted agave, cinnamon, caramel, almond, and raisin.
Taste: A wonderful balance of roasted agave, caramel, and raisin supported by toasted oak, cinnamon, almond, and white pepper. 
Finish: A nice spiciness of oak and pepper lingering for quite some time.
At Tequileña distillery in the eponymous town of Tequila, Jalisco, home to a range of celebrated tequilas, Master Distiller Enrique Fonseca distills agave predominantly grown in and around his highland hometown of Atotonilco el Alto. For this añejo expression, Enrique ages select tequilas initially in used Cabernet Franc wine barrels from the Loire Valley of France for a minimum of 14 months. The tequila is then extracted from the French oak and laid into toasted American white oak previously used to age either Canadian whiskey or Tennessee rye whiskey, for a minimum of 14 additional months, for a truly masterful balance of oak and agave flavors.

Tequila is one of the most highly regulated spirits with a list of requirements, such as using only Blue Webber Agave and only producing in certain parts of Mexico, mostly in and around Jalisco. One of the requirements is for each and every bottle of tequila to have a unique number on it called "NOM" which corresponds to the distillery which made it. Most brands will work with only one distillery and the NOM on their bottles will always be the same. Tequila ArteNOM, from Las Joyas del Agave, is unique in that it draws tequila from several different distilleries, and the number in the title of each release corresponds to the NOM for the distillery which produced it. In this sense, ArteNOM is acting more like a curator than a distiller, showing off the "house style" of different distilleries, as well as showcasing the different characteristics that agave has when grown at different altitudes, which is often referred to as tequila's highlands and valley (or lowlands).

| | |
| --- | --- |
| Producer | Tequileña, S.A. de C.V. for Las Joyas del Agave |
| Style | Anejo Tequila |
| Volume | 75cl |
| ABV | 40% |