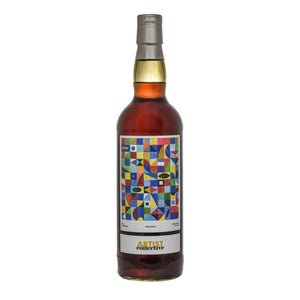 Tasting Notes for Auchentoshan 13 Year Old Single Malt - Artist Collective 2007
Nose: Slightly burnt and waxy, the nose evolves with intense notes of black fruits (blackberry, blueberry, blackcurrant, cherry). After aeration, the malted barley takes up the background of the aromatic palette. 
Taste: Notes of apricot, salted butter caramel, crushed malted barley and precious woods. On the mid-palate, flavors of prune, toasted walnuts, dark chocolate, liquorice and dry leaves diffuse autumnal tones of the most beautiful effect. 
Finish: Long and mellow. Delicious chocolate fondant fades to sweet spices (cinnamon, ginger) and eventually luxurious woody notes (chestnut, oak, walnut).
Auchentoshan 13 Years Old Artist Collective 2007 is a limited-edition Auchentoshan single malt, released in 2021 as part of La Maison du Whisky's Artist Collective series. The whisky was distilled in 2007 and matured for 13 years. It was finished in a first-fill sherry butt before being bottled at 48%. Sherry finishing has enriched this wonderfully fruity whisky. It has a rich malty character with floral, spicy and woody notes. This complex flavour profile is colourfully represented by Théo Guignard's geometric work 'Aquarelle'.

Auchentoshan is unique as a Scottish distillery, in that it is the only distillery in Scotland to triple distill all of its whisky – a style which is more associate with Ireland than Scotland. Indeed, some call Auchentoshan an Irish distillery operating in Scotland. It is also quite unusual to find a Scottish distillery, like Auchentoshan, that reserves all of its production for single malt; none is sold for blending purposes.

Auchentoshan began life as Duntocher distillery, built by John Bulloch on the banks of the Clyde. Unfortunately for John, the business had a very awkward early life and the venture put the family into bankruptcy. With its new owners, Hart and Filshie, the name Auchentoshan was born and the distillery found its footing. Auchentoshan changed hands numerous times from 1875 until 1984, when it was purchased by Stanley Morrison. Auchentoshan is now part of the Morrison Bowmore arm of Beam Suntory.


Since the dawn of time, artist collectives have been places of exchange, inspiration and creativity. In the same way, each of the single malts found in the La Maison Du Whisky Artist Collective range draws the richness of their 70 years of expertise in selecting the very best casks for small batch creations. Devoted to diversity, every region and every style of Scottish single malt, peated and unpeated, are represented.

The marquee release from LMDW Creations, this line is lovingly created with casks hand-picked in limited release for the discerning. Each release features a contemporary artist, drawing on their own personal experiences echoing the essences of the spirits. They have been bottled especially in the hopes that these expressions will delight, amuse, and inspire. We can attest that they certainly do that and this is one of our favourite ranges.


| | |
| --- | --- |
| Producer | Auchentoshan Distillery |
| Style | Lowland Single Malt Scotch Whisky |
| Age | 13 Years |
| Volume | 70CL |
| ABV | 48% |