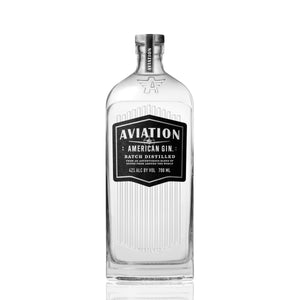 Tasting Notes for Aviation American Gin
Aroma: Crisp notes of juniper alongside delicate floral sweetness, parma violets, a touch of citrus peel and some green vegetal notes in there too, with a pinch of spice.
Taste: Wonderful spicy notes, more prominent than on the nose, cardamom shining through and a scattering of cinnamon, with floral notes continuing.
Finish: Spices linger, along with the return of citrus peel.
Aviation is America's original craft gin. Created by pioneering bartender, Ryan Magarian and master distiller, Christian Krogstad, in Portland Oregon, it is the culmination of their quest for a more versatile and mixable gin.

Instead of being overpowered by juniper – the flavor of which many perceive to be "harsh" or "medicinal" – Aviation is a balanced blend of seven botanicals: juniper, cardamom, lavender, sarsaparilla, coriander, anise seed, and dried orange peel.

Aviation's botanicals are infused by maceration – steeping them until the flavors have bonded – then redistilled. Many other gins are infused by vapor distillation– passing heated alcoholic vapors through a basket of botanicals.

The GIN Is IN Awards: Gold Medal - 2018

World Gin Awards: Gold Medal - 2015



Aviation Gin is produced by House Spirits Distillery, an American craft distiller based in Portland, Oregon. The company's flagship brand - Aviation Gin - accounted for 80% of production in 2014 and 40% of production in 2016. The distillery sold off Aviation American Gin brand to New York-based distributor Davos Brands in 2016, who in turn sold it to Diageo for a staggering $610 million in 2020. The gin continues to be solely produced at House Spirits Distillery.

| | |
| --- | --- |
| Producer | House Spirits Distillery in Portland, Oregon. |
| Style | American Craft Gin |
| Volume | 70cl |
| ABV | 42% |