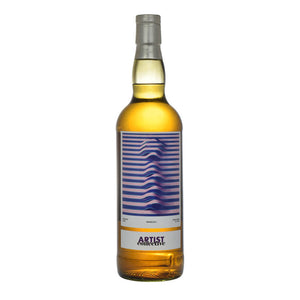 Tasting Notes for Ben Nevis 6 Year Old Single Malt - Artist Collective 2014
Nose: Rich and smooth with aromas of nuts and very ripe white grapes blending harmoniously with hints of curry, cinnamon and saffron. As it opens up, chocolate, vanilla and a beautifully floral note appear.
Taste:  Beeswax and acacia honey coat the taste buds very gently while spices (pepper, star anise, cloves) are deposited in powder on the tongue. In the middle of the mouth, stewed fruits (apple, plum) and candied citrus fruits (lemon, orange) rub shoulders with many aromatic plants (chervil, sage, savory). 
Finish:  Long and smooth. A subtle blend of damp earth, cinnamon and grated ginger. Freshly herbaceous (coriander, dill) resinous and sappy (pine). 
Ben Nevis 6 Years Old Artist Collective 2014 is a limited-edition Ben Nevis single malt, released in 2021 as part of La Maison du Whisky's Artist Collective series. The whisky is a bottling of two second-fill sherry butts, filled in 2014 and bottled after 6 years at 57.1%. This classic Ben Nevis has a rich and nuanced palate with exotic fruits, aromatic plants and subtle spices. The label features a deep and textured trompe l'oeil by artist duo Grabuge, representing the whisky's floral and spicy subtlety.

Founded in 1825, Ben Nevis distillery sits at the foot of its namesake, the highest mountain in Britain, and creates whisky that has a distinctly thick toffee and fig characteristic. It does very well in sherry casks, adding a fruity spice and a chewy element. On the outskirts of Fort William, the distillery takes its water from the Ben Nevis mountain itself, siphoning from lochs that are largely filled by pure snow-melt water. Currently owned by Japanese distiller Nikka who bought the distillery in 1989, and began the process of creating the Ben Nevis brand as it is today, with a huge following in Japan.


Since the dawn of time, artist collectives have been places of exchange, inspiration and creativity. In the same way, each of the single malts found in the La Maison Du Whisky Artist Collective range draws the richness of their 70 years of expertise in selecting the very best casks for small batch creations. Devoted to diversity, every region and every style of Scottish single malt, peated and unpeated, are represented.

The marquee release from LMDW Creations, this line is lovingly created with casks hand-picked in limited release for the discerning. Each release features a contemporary artist, drawing on their own personal experiences echoing the essences of the spirits. They have been bottled especially in the hopes that these expressions will delight, amuse, and inspire. We can attest that they certainly do that and this is one of our favourite ranges.


| | |
| --- | --- |
| Producer | Ben Nevis Distillery |
| Style | Highland Single Malt Scotch Whisky |
| Age | 6 Years |
| Volume | 70CL |
| ABV | 57.1% |