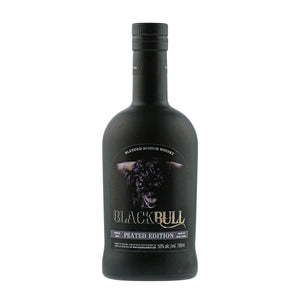 Tasting Notes for Black Bull Peated Scotch Whisky (50% abv)
Nose: Immediate dry smoke, a light saline touch, dark malty tones with green apples and brown sugar beneath the smoke.
Palate: Earthy peat, roasted salt nuts, some citrus, balancing sweetness to the peat, Dutch Stroopwafels, creamy mouthfeel, subtly complex.
Finish: Good length, warming, salty and sweet, baked spiced apples with cinnamon and cloves, lingering smoky embers.
The award-winning Black Bull range of Scotch whiskies was first produced as a blend by the Dundee-based blenders George Willsher & Company in the 1860s, and came to prominence after the repeal of prohibition in the U.S. in the 1930s. The original concept and philosophy of Black Bull was to blend with a high malt content and bottle at 100 proof (50% abv) and in small batches, a philosophy which current custodians Duncan Taylor stay true too to this day.

Black Bull Peated is the newest addition to the Black Bull family, and is a blend of smoky single malts and fruity, spicy grain whisky from select distilleries in Scotland. Matured in the finest oak casks, Black Bull Peated is blended to a formula of 55% malt to 45% grain whisky, and staying true to the philosophy passed down since the 19th Century, is bottled at a hearty 50% abv, without the use of chill filtration. A special blend for all the fans of peated, smoky whisky.


Duncan Taylor was founded in Glasgow in 1938 where the company was initially a merchant and broker of Scotch whisky casks within the Industry. Over the decades, the company built strong ties with distillers and distilleries over Scotland, with the company bringing their own casks to the distilleries to be filled with new make spirit. This resulted in one of Scotland's largest collections of cask whiskies from distilleries – many of which are now closed – maturing in the Duncan Taylor warehouses today.

In 2002 Duncan Taylor moved its headquarters to Huntly, on the periphery of Speyside, Scotland's largest whisky producing region, where it has its own facilities for cask storage, bottling, a cooperage and very soon, its own distillery. At that time, Duncan Taylor also ceased the "brokering" of whisky casks to distillery companies and bottlers to focus on the production and marketing of its own brands, and diversifying the portfolio with the addition of gin and rum.

| | |
| --- | --- |
| Producer | Duncan Taylor |
| Style | Blended Scotch Whisky |
| Age | No Age Statement |
| Volume | 70CL |
| ABV | 50% |