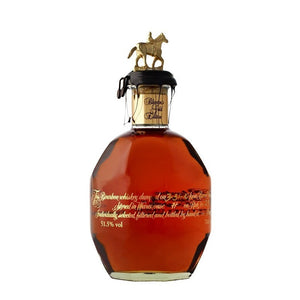 Tasting Notes for Blanton's Gold Single Barrel Bourbon
Nose: Hints of spicy rye and tobacco on the nose, followed by caramel and honey, dark fruit and citrus notes.
Taste: The palate emulates the same complex aroma with rye, tobacco, and honey.
Finish: Oak and vanilla contribute to an extremely long and harmonious finish.
Single Barrel Bourbon started with Blanton's in 1984. Nearing retirement, Master Distiller Elmer T. Lee was tasked with creating a bourbon of exceptionally high quality. With careful reflection, he recalled the earlier days of his career in the late 1940s when he worked under Colonel Albert B. Blanton. Colonel Blanton was the president of the distillery until 1952. Mr. Lee remembered that when Colonel Blanton would entertain dignitaries and other important guests he would handpick "honey barrels" from the center cut of Warehouse H and have that bourbon bottled one barrel at a time. As a tribute to Colonel Blanton's old tradition, Elmer T. Lee decided to name this new bourbon "Blanton's Single Barrel".

Elmer T. Lee introduced the world to Blanton's Single Barrel Bourbon a year before he retired. In doing so, he revolutionized the industry by creating the "super premium" category of bourbon with the world's first single barrel bourbon. This idea was somewhat radical at the time because it challenged the identity of what most folks thought bourbon to be. Today, most distilleries offer one or more single barrel bottlings, but Blanton's was the first, and we still believe one of the finest, single barrel bourbons on the market.

The Gold Edition was the second version created, after the Original 93 proof. This 103 proof Blanton's Gold is very limited, but a favorite among discerning bourbon aficionados.

Numerous Awards, here's a sample:

Jim Murray's Whisky Bible: Single Cask of the Year - 2019

The American Whiskey Masters: Gold Medal - 2017

International Wine & Spirit Competition: Trophy Winner - 2014

Blanton's is the premium Single Barrel Bourbon brand from the award winning Buffalo Trace Distillery in Frankfort, Kentucky. The distillery claims to be the oldest continuously operating distillery in the United States and the World's most awarded distillery. Records indicate that distilling started on the site that is now the Buffalo Trace Distillery in 1775 by Hancock Lee and his brother Willis Lee who died in 1776, with the first distillery being constructed in 1812 by Harrison Blanton.

In 1870 the distillery was purchased by Edmund H. Taylor and given its first name, the Old Fire Copper (O.F.C.) Distillery. Taylor sold the distillery eight years later to George T. Stagg and in 1886, Stagg installed steam heating in the storage warehouses, the first climate controlled warehouse for aging whiskey in the US. Albert B Blanton, who Blanton's whiskey is named after, joined the O.F.C distillery in 1897 as an office boy and would go on to devote more than 55 years to producing, protecting and promoting fine Kentucky straight bourbon whiskey, eventually becoming president of the distillery, now called the George T Stagg distillery, in 1921. Under Col. Blanton's direction, the Distillery survived and even thrived through Prohibition, the Great Depression, a devastating flood and numerous other challenges throughout the early 20th century.

Elmer T Lee was hired by Albert B. Blanton in 1949, and 35 years later was tasked with creating a bourbon of exceptionally high quality. With careful reflection, he recalled the earlier days of his career in the late 1940s when he worked under Colonel Albert B. Blanton. Colonel Blanton was the president of the distillery until 1952. Mr. Lee remembered that when Colonel Blanton would entertain dignitaries and other important guests he would handpick "honey barrels" from the center cut of Warehouse H and have that bourbon bottled one barrel at a time. As a tribute to Colonel Blanton's old tradition, Elmer T. Lee decided to name this new bourbon "Blanton's Single Barrel".

The Distillery went through several changes of ownership and name before finally being bought by the Goldring family who renamed it the Buffalo Trace Distillery after an ancient buffalo crossing on the banks of the Kentucky River in Franklin County, Kentucky in 1992.

| | |
| --- | --- |
| Producer | Buffalo Trace Distillery |
| Style | Kentucky Straight Bourbon |
| Age | No Age Statement |
| Volume | 70CL |
| ABV | 51.5% |