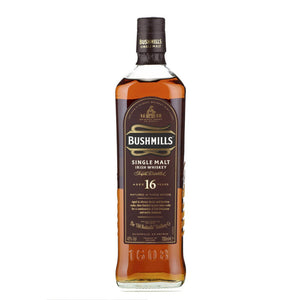 Tasting Notes
Aroma: A classic Irish nose of honey, yoghurt and tinned stone fruit, this also has a lovely cassia bark character which develops in the glass.
Taste: Spiced and rich with juicy summer fruits, Christmas spices, pine oil, manuka honey and peaches in syrup.
Finish: Thick and syrupy with notes of red berries and Golden Syrup.
The 16 year old Bushmills builds on the soft, smoothness of the 10 year old and adds some very nice fruity characters. The whiskey is initially aged seperately for 15 years in both bourbon and sherry casks then these are married together into port wood for around a year of extra finishing. The port wood adds some delicious flavours of red fruits, some sweetness and hints of candy and chocolate. Like all Bushmills whiskeys it is very smooth but this one has a sweeter, fruitier edge than them all. If you are looking for a great example of Irish Single Malt, look no further. You won't find a better one in this price range.

Jim Murray's Whisky Bible: Irish Single Malt of the Year - 2018

Wizards of Whisky Awards: Gold Medal - 2015

World Whiskies Awards: Gold Medal - 2014

The Bushmills distillery is set in the idyllic surroundings of the North Antrim Coast, considered an area of outstanding beauty and with the UNESCO world heritage sight of the the Giants Causeway just a short distance away from the distillery. For those interested in Game of Thrones, many of the scenes were shot around this area and there are multiple tours available which will take you around the various locations.

The Bushmills area is arguably the oldest site of whiskey manufacture in the world, with reports of "aqua vitae" being given to troops before battle in 1276, and references to its distillation during the reign of Henry I in the 12th century. Even thought these stories are probably more a result of legend becoming fact, rather than the other way around, the Bushmill's claim to be the oldest site of whiskey distilling is very strong.

The Bushmills distillery itself is one of Ireland's oldest, and the original license to distil is the oldest official record of whiskey making in the world, having been granted in 1608. In reality this license meant very little, but it does tell us that this area was so renowned for whiskey making that the English appointed Lord Deputy of Ireland wanted to claim the rights for himself. English rule of law in Ireland meant very little outside the Dublin in the 16th and 17th centuries and no distillery was registered at Bushmills until 1784, but this doesn't necessarily mean that there was no distillery there. This would still make it the oldest distillery in Ireland if it had survived, but the original buildings were destroyed by fire in 1885 and the buildings as we see them today were subsequently erected.

| | |
| --- | --- |
| Producer | Bushmills Distillery |
| Style | Single  Malt |
| Age | 16 Years |
| Volume | 70CL |
| ABV | 40% |