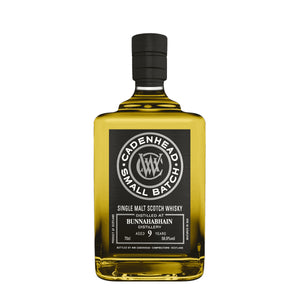 Tasting Notes for Cadenhead's Bunnahabhain 9 Year Old Single Malt
Nose: Soft and oily to start, with distant peat. Olive oil, pecan pie and faint antiseptic cream.
Taste: Nutty and creamy with lemon, peach syrup and raspberry coulis. Hints of engine oil, beeswax and chives.
Finish: Long and oily; a distant harbour with diesel and green bananas.
Cadenhead's is Scotland's oldest independent bottler, established in Aberdeen in 1842. At a time when the norm was for grocers to buy casks from multiple distilleries and blend them together, William Cadenhead recognised that the whisky from each distillery was unique, and sold whisky from individual casks. In doing so, William Cadenhead became the first person in the world to bottle and sell Single Malt Scotch Whisky. These days, Cadenhead's is synonymous with Springbank Distillery, after the business was purchased by the Mitchell family in the 1970's. The current owners have expanded the Cadenhead business whilst still keeping the goals and traditional ethos the firm began with back in 1842.

Cadenhead's Small Batch Cask Strength releases are vattings of a maximum of 4 casks, and in this case 2 bourbon hogsheads, and these whiskies are bottled at Cask Strength. The only factor that is considered when deciding what strength to release a whisky at is taste – because taste is what matters most. Always bottled at natural cask strength, without the addition of colouring agents or chill filtration.

Built in 1881 in an otherwise desolate area of Islay, the small village of Bunnahabhain (pronounced boon-a-hav-en) grew up to serve the new distillery. This happened pretty much instantly for the immediate area, with housing, new roads and even a pier being built along with the distillery to accommodate the business needs. Unlike the other Islay distilleries, Bunnahabhain's classic spirit is very lightly peated, more akin to a rich, Highland malt. Fresh aromatic notes float over the little bit of smoke, with a malty sweetness and a fruit and nut quality.


The firm of William Cadenhead Limited, Wine and Spirit Merchants, was founded in 1842 and was in the ownership of the same family until it was taken over by the well known Campbeltown firm of J & A Mitchell & Co. Ltd who own Springbank Distillery. The premises were in Netherkirkgate in Aberdeen and although the street numbers were changed from time to time the premises were the same and indeed were almost unaltered during their 130 years of trading in Aberdeen.

Mr. George Duncan established himself as a Vinter and as a distillery agent in 1842 and was joined by his brother-in-law Mr William Cadenhead in 1853 who worked as a traveller for the business. In 1858, William Cadenhead purchased the business outright and changed the trading name to his own. The business prospered under the guidance of William Cadenhead until early in the morning of Sunday 11th December 1904, William Cadenhead passed away.

He was succeeded in the business of Wine and Spirit Merchants at 47 Netherkirkgate by his nephew Robert W. Duthie, son of Robert Duthie – Superintendent of the Scottish Orphanage in Bombay. He developed what the firm was most famous for, namely single malt Scotch Whisky and Demerara Rum. He advertised his products extensively on the back of buses, theatre curtains, concert programmes and in much else using the slogan, "By test the Best."

In 1931, in the depth of the depression, the business of William Cadenhead was not in good financial health. As such, Mr Duthie was on his way to a meeting with his bank manager when he was unfortunately run over by a tram car while attempting to cross the road. Duthie was a bachelor but left two sisters; neither of them, though, knew anything about the Wine and Spirit trade. They were determined the name of William Cadenhead should survive so placed long-term employee Miss Ann Oliver in charge of the business. Ann Oliver ran the business in her own style and stubbornly refused to move with the times. For several years, this approach proved prosperous. However, in the early 1960s things began to get worse as the administration side of the business was poorly adhered to and several ill-advised business decisions were made.

Eventually, Miss Oliver was prevailed upon by the Trustees to retire and sell the business. The warehouse and number 47 Netherkirkgate was full from the cellar to the roof with stock but nobody knew how much any of it was worth. In the end, Christie's, who had liquidated considerable stocks of rum, were contacted. The result was a two-day sale of the entire stock. The catalogue extended to 167 pages and was, to that date, the largest sale of wines and spirits held in Great Britain. The sale took place in London on 3rd and 4th of October 1972 and resulted in a six-figure surplus over liabilities for the firm.

Thereafter the goodwill, premises etc of the firm of William Cadenhead were sold to J & A Mitchell & Co Ltd, the proprietors of Springbank Distillery and the company's modern era began. Intriguingly, in the early 70s there was a shortage of glass bottles so buying what was left of the Cadenhead business was seen by J& A Mitchell owner, Mr Hedley Wright, as a way of getting some more. After the auction Cadenhead's became a part of J & A Mitchell but the glass bottles were never received – we never did find out what happened to them.

In addition to the Cadenhead's shop in Campbeltown, there are now shops in Edinburgh, London and several on continental Europe. Cadenhead's is now a household name in the whisky world and the present owners have expanded the Cadenhead business whilst still keeping the goals and traditional ethos the firm began with back in 1842. More than 175 years have now passed since then and the company continues to progress.

Slàinte


| | |
| --- | --- |
| Producer | Bunnahabhain Distillery |
| Style | Islay Single Malt Scotch Whisky |
| Age | 9 Years |
| Volume | 70CL |
| ABV | 58.9% |