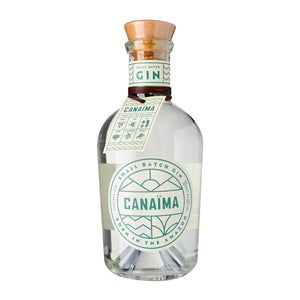 Tasting Notes for Canaima Gin
Aroma: Well-balanced citrus zestiness and earthy spice lead – the dual nature of juniper on a glass. Damp, leady notes fill the gaps in between bursts of fruit, with a base of soft spice hiding at the back.
Taste: The citrus is back, but savoury herbal notes build and overtake it. A flash of sweet orange and tropical fruit spirals out from the centre, with tingling, peppery spice as a counterpoint.
Finish: Earthy spice lingers, with sweet fruit slowly fading.
Serving Suggestion: Perfect in a refreshing highball, with pink grapefruit soda and a squeezed lime wedge. 
Canaima is a delicious 47% ABV gin created by the people behind Diplomático Rum to support the Amazon rainforest and its native population.

Distilled in DUSA's distillery, at the foot of the Andes Mountains at La Miel, an area in the state of Lara, Venezuela. It is made with 8 traditional gin botanicals, 1 local fruit and 10 exotic botanicals sustainably sourced from deep in the Amazonian rainforest, some of which include Açaí, Merey (Cashew) and Túpiro, an orange coloured fruit frequently consumed by the native tribes for it's nutritional properties.

All the botanicals are individually macerated and re-distilled in a 500 litre copper pot still to create a truly small batch gin.

The current distillery located near Barquisimeto, Venezuela dates from 1959 and was built by a company called Licorerías Unidas S.A. (LUSA), which was created by Seagram's International Ltd and local Rum producers.

Seagram's was the major shareholder with 51% of the shares and the key international brands. LUSA started operating at the end of the year 1959.

Before that, there was a small distillery producing local Spirits since 1945 but nothing compared to the distillery that was built after, in terms of size and distillation systems.

LUSA ran from 1959 to 2002, then it became Destilerías Unidas S.A. (DUSA). The name of the company changed when the distillery (and 5 brands, among which is Diplomático) was purchased by its current owners the Ballesteros, Díaz, Curbelo and Arispe families.

DUSA means "United Distillers," a name that reflects the company's core know-how. The distillery continues to produce Rum for both the home market and export, along with Vodka, Gin, Brandy and Liqueurs amongst other things.

The facility is exceptional well kitted out with a multi-column, continuous distillation system, batch kettle and pot stills for the Rum alone. Along with large pot stills for making Whiskey, and a pot still for making Gin.

Aging warehouses are located nearby. The facility also has its own bottling line.

| | |
| --- | --- |
| Producer | Destilerías Unidas S.A. (DUSA), Venezuela |
| Style | Amazon Gin |
| Volume | 70cl |
| ABV | 47% |