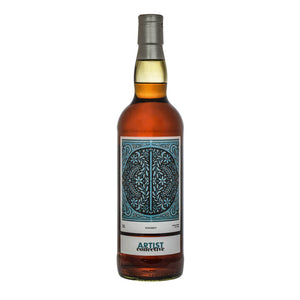 Tasting Notes for Caol Ila 10 Year Old Single Malt - Artist Collective 2010
Nose: Initial notes of apricot, brandy cherry, white peach and raisins fade to meld into the background aromas of malted barley, iodine, smoke and dry peat. 
Taste: Camphor, ash and peat rub shoulders with milk chocolate, heather honey, quince jelly and apricot coulis. Gradually the chocolate becomes dark (100%). With a superb salivating bitterness, the mid-palate suggests a distillate with lemony and fruity accents (pear). 
Finish: Long and full of serenity. Slightly meaty (bacon, leather), the finish is mostly covered with a thin film of ash reminiscent of a hearth of the fireplace. 
Caol Ila 10 Years Old Artist Collective 2010 is a limited-edition Caol Ila single malt, released in 2021 as part of La Maison du Whisky's Artist Collective series. The whisky was distilled in 2010 and matured in a refill sherry butt for 10 years, before being bottled at 48%. Caol Ila 10 Years Old Artist Collective 2010 showcases a wonderful balance between peated malt and sherry wine, with notes of fruit, chocolate, iodine, malt, smoke, peat and spices. Loren Klein's artwork 'NONQBRC7' highlights the complexity of this whisky.

Caol Ila is the Gaelic name for the Sound of Islay, the sea which separates the island from Jura in one of the most remote and beautiful parts of Scotland's West Coast. The distillery is situated on the shores of the Sound, a spot originally chosen in 1846 partly because of the clean water from Loch Nam Ban which still provides its main supply. And even today you can still watch the seals in the Sound from the still room.

In the classic Islay style, Caol Ila is made predominantly with peated malt and the resulting phenols have a big influence on the final flavour of the whisky, as do the large onion shaped stills which impart Caol Ila's light and delicate character, along with the salty coastal air that the casks 'breathe' during maturation.


Since the dawn of time, artist collectives have been places of exchange, inspiration and creativity. In the same way, each of the single malts found in the La Maison Du Whisky Artist Collective range draws the richness of their 70 years of expertise in selecting the very best casks for small batch creations. Devoted to diversity, every region and every style of Scottish single malt, peated and unpeated, are represented.

The marquee release from LMDW Creations, this line is lovingly created with casks hand-picked in limited release for the discerning. Each release features a contemporary artist, drawing on their own personal experiences echoing the essences of the spirits. They have been bottled especially in the hopes that these expressions will delight, amuse, and inspire. We can attest that they certainly do that and this is one of our favourite ranges.


| | |
| --- | --- |
| Producer | Caol Ila Distillery |
| Style | Islay Single Malt Scotch Whisky |
| Age | 10 Years |
| Volume | 70CL |
| ABV | 48% |