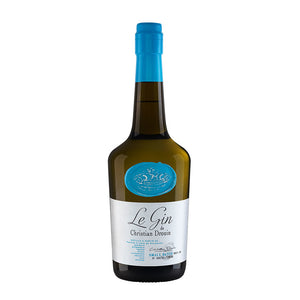 Tasting Notes for Le Gin de Christian Drouin
Aroma: Initial crisp and bright wafts of apple become liquorice-inspired, herbaceous (juniper) and peppery. 
Taste: Floral and fruity, leading into a smooth cardamom spiced body, finishing with notes of cinnamon, and freshly cut quarters of apple. 
Recommended serve: Straight or with ice. Alternatively, a large balloon glass filled with ice, two thin slices of freshly-cut apple, and possibly a thin slice of ginger, to your preferred Gin & Tonic ratio.
Le Gin de Christian Drouin is based on a neutral spirit aromatised with distilled apple cider. The distillate comes from more than 30 different cider apple varieties. Bitter, bitter-sweet, sweet and tart varieties are all represented, forming a rich, complex aromatic palette. In the autumn the apples are grated and pressed. The 'must' thus obtained ferments slowly during the cold winter months and is then double-distilled in small copper pot stills the following year. The cider spirit obtained in this way gives Christian Drouin Le Gin its roundness and delicacy, and also its crispness. Cider spirit is well known for its digestive properties.

Guillaume Drouin has created his hand-crafted Gins using the art of blending developed for classic spirits. It is produced by distillation of ciders in small copper pot stills, and by the distillation of Juniper and seven other aromatic plants typical of the world of Calvados. Each one is distilled separately before being blended in unique proportions for a batch of 2,850 bottles.

Guillaume had to find seasoning that would best balance, complete and enhance juniper and cider apple. After distilling separately numerous plants, in the same way as a great blend is assembled, a final selection of 8 plants was made, all of them, with the exception of juniper, belonging to the aroma universe of premium Calvados. Creating harmony among these 8 aromas was the next step, then adjusting the recipe and at last understanding that his work process would enable him only to create small batches as the one plant at a time distillation process imposes to keep adjusting proportions so as to obtain the best possible blend.

Three generations of the Drouin family have produced quality Calvados in the Pays d'Auge region, seeking to express the full complexity of the Normand cider apple varieties.

As head of the Calvados Christian Drouin company, Guillaume Drouin represents the third generation of a family that has always been fascinated by the search for a perfect balance between different aromas and flavours.

Guillaume Drouin is a qualified oenologist and agronomist. After acquiring experience in the elds of wine-making and rum he joined the family business in 2004. Working with his father on the aging of calvados, he took part in the creation of the company's great blends while looking for new product ranges that would highlight original aromatic associations.

Guillaume is a man full of curiosity and enthusiasm. His passion for the world of flavours, tasting and the art of blending soon led him towards a new creation, that of a Gin based on the apples from his orchards. Thanks to its method of production and the number of aromatic substances that compose it, this Gin is without any doubt the spirit that offers the broadest possible spectre of composition: an almost in nite eld for creativity, a challenge both rich and fascinating in the search for symbiosis between apples, juniper and aromatics of world-wide origin.

| | |
| --- | --- |
| Producer | Christian Drouin |
| Style | Gin |
| Volume | 70cl |
| ABV | 42% |