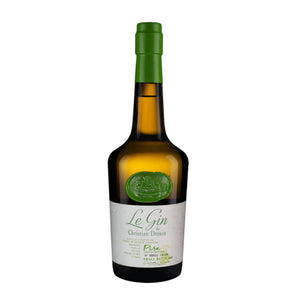 Tasting Notes for Christian Drouin Gin Pira
Aroma: A complex citrus fruit nose with notes of fresh juniper and pear.
Taste: White fruits, black pepper and Iris, with a lingering warm spice.
Finish: Smooth and fresh.
Recommended serve: Serve neat, or with tonic water and a sliver of freshly cut pear to garnish.
Pira, which is latin for pear, is a new limited edition gin by Christian Drouin, which puts the pear rather than the apple front and center. While many people think of apples when they think of Normandy or Calvados, the pear is also an emblematic fruit that makes up a good part of the Calvados production. Christian Drouin have blended a pear used to make pear cider in Normandy, known as Domfront, together with juniper, vanilla, lemon, black pepper and iris root.

Pira is crafted according to Christian Drouin's original gin recipe, in which each ingredient is macerated and distilled separately in order to extract the full aroma. The distillates are then expertly blended in just the right ratios before bottling.

Pira packaging replicates the visual identity of Christian Drouin Gin, but in a luscious raw green hue that brings pears to mind. It tastes of mouth-watering white fruit, black pepper and iris, as ever with the full-bodied flavour that has forged the reputation of gins by Drouin.


Three generations of the Drouin family have produced quality Calvados in the Pays d'Auge region, seeking to express the full complexity of the Normand cider apple varieties.

As head of the Calvados Christian Drouin company, Guillaume Drouin represents the third generation of a family that has always been fascinated by the search for a perfect balance between different aromas and flavours.

Guillaume Drouin is a qualified oenologist and agronomist. After acquiring experience in the elds of wine-making and rum he joined the family business in 2004. Working with his father on the aging of calvados, he took part in the creation of the company's great blends while looking for new product ranges that would highlight original aromatic associations.

Guillaume is a man full of curiosity and enthusiasm. His passion for the world of flavours, tasting and the art of blending soon led him towards a new creation, that of a Gin based on the apples from his orchards. Thanks to its method of production and the number of aromatic substances that compose it, this Gin is without any doubt the spirit that offers the broadest possible spectre of composition: an almost in nite eld for creativity, a challenge both rich and fascinating in the search for symbiosis between apples, juniper and aromatics of world-wide origin.

| | |
| --- | --- |
| Producer | Christian Drouin |
| Style | Gin |
| Volume | 70cl |
| ABV | 42% |