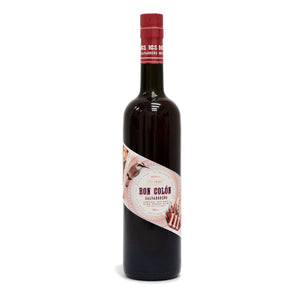 Tasting Notes for Ron Colón Salvadoreño Coffee Infused Rum
Nose:  Light coffee, cookies, mixed woods, allspice, and ginger root. 
Taste: Dark chocolate mocha espresso followed by roasted nuts and berry cobbler over exotic spices.
Finish: Long, smooth and lightly dry.
Overall: The coffee is present but doesn't overpower the rum. If you're like us and love both rum and coffee, then this is the one for you.
The coffee infused Ron Colón Salvadoreño is made using bourbon coffee beans from the El Ciprés region, grown at 1700m next to El Salvador's famous Santa Ana volcano. Bourbon coffee beans have a beautiful buttery sweetness. The beans are dried using the natural process; consistently turned by hand to ensure they dry equally over a period of four weeks. This slow process allows for the bean to interact with the natural sugars from the cherry (the fruit around the bean) over a long period of time, giving the final bean a more fruit-forward flavour. The natural process brings more intricate and funky fermented flavours, perfect for pairing with rum.

Once dry, the cherries are discarded, and the remaining beans are shipped to Jags Head Coffee Roastery in North Carolina. The head roaster, Andres, uses a medium roast for the beans, giving a rich chocolate flavour with cherry notes and some remaining bitterness. The beans are then taken off to be cold macerated in Ron Colón Salvadoreño Dark Aged Rum for 48 hours. This allows enough time for the coffee beans to release their rich cherry, chocolate, and honey flavours into the rum. The liquid is non-chill filtered to retain the coffee oils and bottled at 55.5% abv for maximum flavour.

El Salvador is the smallest country in Central America, bordered by Honduras, Guatemala and the Pacific Ocean. Many know El Salvador for its complex political history, which includes a violent civil war from 1980-1992. What most aren't aware of are the magnificent volcanoes, World-class surf spots, and amazing produce - El Salvador produces some of the finest cane sugar and coffee in the world.

Ron colon's story started in 2018 with two befriended colleagues, Thurman Wise and Pepijn Janssens. With a combined experience of over 20 years working in the spirits industry, Wise and Janssens spent their time traveling around the world introducing brands to emerging Markets. In 2018 this job took them on a 22-day, 16-country barhop across Latin America, and it was during this trip that El Salvador ("Sivar" in slang) captured their attention.

A story that started with two, very soon became a Task-team of six. The unique creative talent of Chris Rehberger and his Berlin-based team at double standards managed to visualize the true essence of El Salvador. Andres Trigueros and his family at Jags Heads Coffee gave the team the privilege to collaborate with one of the most dynamic coffee farms in El Salvador, whilst welcoming them into their home and farm, offering a deeper insight Into the family's culture and history. Felicity Gransden Joined to offer her unique talent in flavour innovations, and last but not least, Tobias Jegenstam was brought onto the team to bring his wizz-skills in social media, and so the RCS team was born.

| | |
| --- | --- |
| Producer | Licorera Cihuatán distillery in El Salvador, Worthy Park, Hampden and Monymusk distilleries in Jamaica. |
| Style | (Almost) Cask Strength coffee infused rum |
| Age | • 6-year-old column-distilled Salvadoran rum produced by Licorera Cihuatán distillery. • Unaged pot-distilled Jamaican rum produced by Worthy Park, Hampden and Monymusk distilleries. • 3-year-old Jamaican pot-distilled rum produced by Worthy Park estate. • All rums in the blend are aged at source |
| Volume | 70CL |
| ABV | 55.5% |