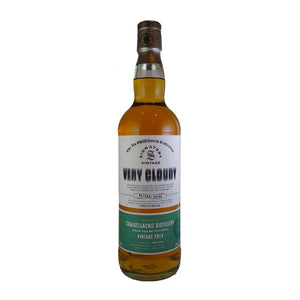 Tasting Notes for Craigellachie - 7 Year Old (2014) Signatory Vintage
Nose: Barley malt, green apples and pears, lemon zest and white pepper.
Palate: Barley malt, roasted peanuts, vanilla, salted caramel, white pepper lemongrass and toasted oak.
Finish: Medium long with notes of toasted oak, malted barley, salted nuts and white pepper.
Craigellachie's distillery, located in the village of Craigellachie in the heart of Speyside, was built in 1890. Designed by Charles Doig, it was built with all modern conveniences with the express intention of making a lighter fruitier spirit than the older distilleries – one of the earliest descriptors of Craigellachie mentions pineapple as a desireable aroma.

It's one thing to desire an aroma, but quite another to spend over 100 years perfecting the skills necessary to bring the desired character to life. This is exactly what Craigellachie has done, revelling in it's sulphurous nature which is enhanced by long fermentation times in worm tubs. After careful maturation in quality oak casks, the initially sulphurous nature changes and turns into the most wonderful floral and tropical notes which have made Craigellachie a prized spirit for over a century.

This particular edition of Craigellachie was laid down on 27 February 2014 in 3 re-fired hogshead casks and was bottled in 17 June 2021, having spent more than 7 years maturing on Speyside.

Signatory was founded in 1988 by Andrew and Brian Symington and is best known for their Signatory Vintage Scotch Whisky independent bottlings including their Cask Strength and Un-Chill Filtered collections. The name 'Signatory' was derived from the initial intention to find a person of suitable standing to sign the labels for bottles drawn from a single cask. The first cask bottled was a 1968 Glenlivet which quickly sold, though long before any suitable signee could be found. With the initial plan to have all their bottles signed by the great and the good long since abandoned, Signatory went on to become one of the largest and most respected independent whisky bottlers.

Signatory currently bottle at four strengths: 40% Very Cloudy, 43%, 46% Un-chill filtered (UCF) and Cask Strength. To add proof of authenticity to their cask strength bottlings, Signatory always include the cask numbers, date of distillation, date of bottling and number of bottles produced. Signatory Vintage's aim is to offer as wide a range of whiskies as possible, some of which are not even bottled by the proprietary distillery. This allows malt enthusiast to sample the huge variety of subtle differences which occur between casks.


| | |
| --- | --- |
| Producer | Craigellachie Distillery for Signatory Vintage |
| Style | Single Malt Scotch Whisky |
| Age | 7 Years |
| Volume | 70CL |
| ABV | 40% |